Mastering Self-Sufficiency: Creating A Self-Sufficient UK Homestead
Just a heads up, this post contains some affiliate links. That means that we earn a small commission if you buy the product at no extra cost to you. That allows us to continue to research and share interesting articles with you. :)
Have you ever dreamed of having a self-sufficient UK homestead? Your little slice of green goodness right here in the UK? A place where you can pluck your veggies fresh from the earth, tend to your critters with love, and sip tea under the sun you harvested energy from? Well, you're in for a treat because we're diving headfirst into the world of crafting your very own self-sufficient homestead right here on British soil.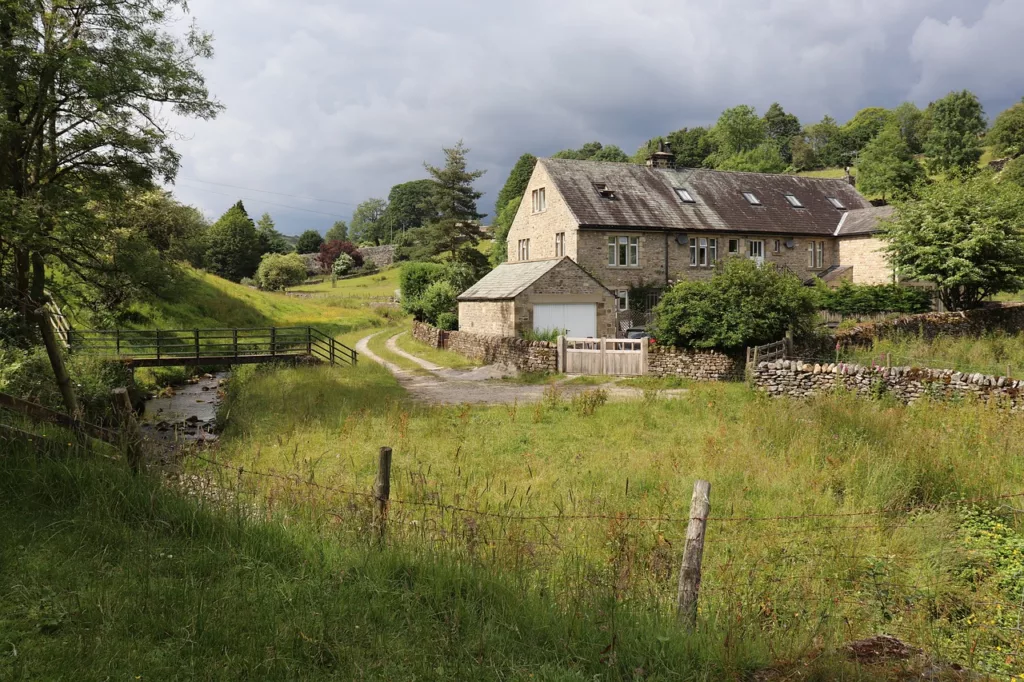 Take a second to imagine this: you wake up to the gentle melody of chirping birds, step out into your garden, and let the rich scent of freshly turned soil and blooming flowers fill your senses. Imagine walking over to your chicken coop (cue clucks and flapping wings), and collecting eggs as golden as the sunrise.
Sounds dreamy, doesn't it? Guess what? This dream is entirely doable, and I'm here to be your guide on this incredible journey.
Why Embrace Self-Sufficiency?
You might be thinking, "Why should I start this journey? Isn't it a bit, well, hippy-dippy?" Fair question, my friend! Embracing self-sufficiency is more than just tying flowers in your hair (though that's a good idea too). It's about nurturing the Earth while nurturing yourself. It's about saying 'bye-bye' to over-processed foods and 'hello' to fresh, home-grown goodness. It's about embracing a lifestyle that's kinder to our planet, where you're not just a consumer but a creator too.
So, whether you've got a garden the size of a postage stamp or a little plot that's itching for a transformation, we're going to explore everything from turning your soil into gold (not literally, but close enough!) to making sure your chickens are clucking with joy.
From allotment holders to gardening gurus, from families to free spirits, this journey is for anyone ready to roll up their sleeves and join the wholesome revolution.
Ready to dig in? Let's learn how to create a self-sufficient haven that'll make Mother Nature herself raise an eyebrow in admiration!
Understanding the Benefits of Self-Sufficiency in the UK
Alright, my green-thumbed pals, let's talk about why diving into the world of self-sufficiency is like giving Mother Nature a warm, appreciative hug. It's not just about growing veggies and frolicking with the chickens (though that's part of the charm!). It's about weaving a lifestyle that's kinder to the Earth and to your very soul.
So grab your wellies, and let's wade into the sea of benefits that await those who choose the self-sufficient path.
Harmonising with Nature
Imagine your garden buzzing with life—bees going about their pollination business, ladybirds on patrol, and earthworms doing their soil-improving shimmy.
Embracing self-sufficiency is like RSVPing to nature's party and showing up with a plate of delicious, pesticide-free treats. Your garden becomes a haven where ecosystems thrive and harmony reigns.
Feeding Your Soul and Plate
Ever tasted a tomato plucked fresh from the vine? It's like a flavour explosion that sends supermarket tomatoes running for cover. With your own patch of land, you're growing food and cultivating an adventure in taste.
Let's not forget the joy of harvesting those eggs from your happy, clucking hens—sunny-side up never looked so good!
Sustainability Dance
Whipping up a scrumptious meal from your garden's bounty isn't just delicious—it's a statement. A statement that says, "Hey, I care about the planet."
Self-sufficiency goes hand in hand with sustainability. Reduced food miles, no chemicals, and nurturing the soil—it's like a groovy eco-friendly party.
Recommended Product: The Self-Sufficiency Bible
Before you start dancing with the bees and tending to your carrot orchestra, check out The Self-sufficiency Bible: 100s of Ways to Live More Sustainably, Wherever You Are by Simon Dawson. This book is chock-full of tips, tricks, and down-to-earth advice to kickstart your journey.
Selecting the Right Location and Land for Your Self-Sufficient UK Homestead
Alright, my fellow plot dreamers, let's dive into the heart of your future self-sufficient UK homestead: location, location, location! Whether you're in the heart of the countryside or have a cosy nook in suburbia, finding the perfect patch of earth is like choosing a canvas for your self-sufficient masterpiece.
So grab your compass (or, you know, Google Maps) and let's uncover the secrets to picking your homesteading haven.
Country Charms or Suburban Bliss?
First things first, where do you see your self-sufficient paradise? Out in the rolling hills or closer to town? It's like choosing between a wild festival and a cosy gathering – both have their allure, right? Each has its perks, depending on the kind of self-sufficient lifestyle you aim for.
The Land of Your Dreams
Now, imagine standing on your future self-sufficient UK homestead. Close your eyes and envision it. Do you see a vast expanse or a charming corner? Take a mental snapshot of the landscape that speaks to you. The perfect land should make your heart do a little garden dance.
Considering Soil and Sun
Hold on; we're not just playing eeny-meeny-miney-mo here! The soil quality and the amount of sunlight your land gets are like the foundations of a great recipe. Soil that's rich and fertile is your canvas, and the sunlight is your chef's kiss. Together, they create the magic of self-sufficient growth.
Recommended Product: Small Scale Permaculture – A Permaculture Design Manual for Home Growers
This book is a cherished gem in my collection. Its step-by-step approach to creating a self-sustaining garden resonates deeply with my eco-friendly spirit.
Small Scale Permaculture unveils the secrets of soil health, harmonious habitats, and innovative water systems, transforming any space into a thriving oasis. Join this journey to cultivate life in harmony with nature and shape a sustainable future—one garden at a time.
Essential Skills for Successful Self-Sufficient UK Homesteading
Alright, homesteading heroes, it's time to sharpen those DIY skills and embrace the art of self-sufficiency. Think of it as your very own homesteader's toolkit, jam-packed with practical know-how to keep your paradise blooming. From handling hay to conquering compost, let's roll up those sleeves and get hands-on!
The DIY Dance
Whether you're a DIY newbie or a seasoned pro, embracing the do-it-yourself spirit is like discovering a whole new world. Picture yourself building a cosy chicken coop or crafting your own compost bins – it's not just about saving money, it's about the pride of saying, "I did this!
Garden Wizardry
Green-thumbed wizards, this one's for you. From sowing seeds to nurturing seedlings, you're about to master the art of coaxing life from the soil. And when you see that first juicy tomato or that radiant sunflower, you'll feel like you've unlocked a magical secret.
Animal Whispering
Time to channel your inner Dr. Dolittle! Raising animals on your self-sufficient UK homestead isn't just about the bacon (or the eggs). It's about forming a connection with your furry and feathered friends. It's like speaking a secret language only they understand.
This treasure trove of DIY projects is tailor-made for those who thrive on self-sufficiency and bushcraft mastery. With sections dedicated to energy generation, water projects, heating/cooling, and survival strategies, this guide is your key to thriving off-grid.
From generating sustainable energy to growing your food and fortifying your haven, this book equips you to confidently conquer challenges. Dive in and transform into the ultimate self-reliant champion today!
Sustainable Gardening and Crop Selection for UK Homesteads
Alright, eco-warriors and garden enthusiasts, let's talk about crafting your green kingdom in a beautiful, planet-loving way. Imagine a garden that's easy on the eyes and dances in harmony with nature's rhythm.
Ready to explore the enchanting world of sustainable gardening and pick the perfect crops for your self-sufficient UK homestead? Let's get planting!
Planting for Planet Earth
Think of your garden as a little green superhero. With the right plants, you're not just beautifying your space; you're creating a haven for pollinators, conserving water, and combating climate change. It's like joining a global gardening movement, one seedling at a time.
The ABCs of Organic Gardening
Time to ditch the chemicals and embrace the magic of organic gardening. It's like whispering sweet nothings to your soil, saying, "I've got your back, buddy!" From composting to companion planting, organic gardening is the key to flourishing plants and a healthy ecosystem.
A Symphony of Crops
Now, let's talk crops! Picture your garden as a culinary symphony. From the vibrant colours of rainbow chard to the triumphant notes of ripe tomatoes, each crop plays its part in creating a visual and gastronomic masterpiece.
As a fervent follower of his YouTube channel, I can't help but sing praises for this exceptional guide. Huw's passion for cultivating a garden brimming with life is truly infectious, and this book is a captivating extension of his green-thumb wisdom.
With years of experience, Huw's insights effortlessly debunk the myth that gardening demands time and effort. Let's don our gloves and embark on an intuitive gardening adventure guided by Huw's expertise.
Raising Livestock: Best Practises in the UK Climate
Alright, fellow animal whisperers, let's dive into the world of furry and feathered companions on your self-sufficient UK homestead. Raising livestock isn't just about the cute factor (though that's a major bonus).
It's about forming a bond with your animals, producing your own food, and nurturing a slice of sustainable heaven. So put on your wellies, and let's waltz into the realm of responsible livestock raising.
The Animal Connection
Imagine your mornings filled with gentle clucks, contented baaing, and the occasional oink. Raising livestock is like opening the door to a world where you coexist harmoniously with your four-legged friends. It's like a magical animal orchestra, with each member playing a unique tune.
Homestead Pantry Heroes
Think about it: your livestock are more than just cute faces. They're living, breathing pantry heroes. Fresh eggs, wholesome milk, and juicy meat all originate in these adorable beings. It's like having a mini-farm right in your backyard.
Cosy Digs and Happy Wiggles
It's about setting the scene before you welcome your animal pals. Cosy shelters, comfy nests, and spacious paddocks – creating a haven for your livestock is like creating a luxury spa retreat. When they're happy, you're happy!
Implementing Renewable Energy Solutions on Your Self-Sufficient UK Homestead
Alright, eco-warriors who love sun-kissed days and wind-whispered nights, let's talk about harnessing nature's energy to power your self-sufficient haven. Imagine the sweet satisfaction of lighting your home and charging your gadgets using the elements surrounding you.
Ready to explore the world of renewable energy and become your self-sufficient UK homestead's green superhero? Let's generate some excitement!
Sun's Out, Power's On!
Imagine the sun beaming down on your roof, transforming its rays into electricity that powers your home. Solar energy is like a constant stream of sunshine-fueled power, making you a friend of nature and your wallet.
Wind in Your Sails
Picture this: a gentle breeze that not only cools you down but also spins the wind turbine in your garden. Wind energy is like having a silent helper, generating electricity with every gust. It's like capturing the wind's whispers and turning them into power.
The Green Technology Dance
Renewable energy isn't just practical—it's a celebration of sustainability. With solar panels and wind turbines, you're dancing with the future, showing that living harmoniously with the Earth's resources is possible.
Recommended Product: Tqing 8000W Wind Turbine Generator Kit
This wind turbine generator kit has me genuinely excited. Its elegant design and subtle vibrations blend seamlessly with nature. The aluminium alloy structure exudes sturdiness, standing tall in the face of storms. The nylon-fibre blades, carefully shaped for maximum wind capture, showcase thoughtful engineering.
Whether it's juicing up a boat's batteries or illuminating a cabin, this kit feels like a reliable companion on my eco-journey. I can practically hear the wind whispering promises of a cleaner, greener future, and I'm fully on board!
Navigating Legal and Regulatory Aspects of UK Homesteading
Alright, my fellow rule-savvy homesteaders, let's talk about a topic that might not be as glamorous as gardening or cuddling with chickens. Still, it's just as important: the legal and regulatory stuff.
Before you go all pioneer mode on your homestead, navigating the legal landscape like a seasoned explorer is crucial. So put on your legal thinking caps (or whatever feels legal-y), and let's dive into homesteading rules and regulations.
Zoning Zest
First things first, let's talk about zoning. Think of it as how the authorities decide what you can and can't do on your land. Understanding your land's zoning regulations is like knowing the dance steps before you hit the floor.
It keeps you from stepping on toes… or, in this case, legal boundaries.
Homesteading in Harmony
Now, picture this: your garden is thriving, your animals are content, and you are happily sipping tea in your eco-friendly abode.
To keep that harmony going, you need to know about any regulations that relate to water use, waste disposal, and animal welfare. It's like ensuring your homestead orchestra stays in tune.
Get the Paperwork Party Started
Whether permits or licences, paperwork is like the backstage pass to the homesteading show, it might sound daunting, but it's all about ensuring you operate within the law. Think of it as your invitation to the self-sufficient shindig.
Building a Thriving Community: Connecting with Fellow Homesteaders
Alright, my homestead comrades, let's talk about the power of community. Homesteading isn't just about growing veggies and tending to critters; it's about connecting with like-minded souls who share your passion for sustainability, soil health, and the joy of living a good life.
Imagine a circle of friends who understand your chicken chat and compost excitement – that's the magic of homestead camaraderie.
From Allotments to Allies
Whether you're a seasoned allotment holder or a newbie with a dream, building a thriving self-sufficient UK homesteading community is like planting the seeds of friendship. It's about exchanging ideas, sharing successes (and failures!), and creating a support system that's as solid as your garden's foundation.
The Wisdom of the Elders
Think of your community as a treasure trove of wisdom. There's always that one person doing this homesteading thing for decades, and their knowledge is like a secret map to success.
It's like having a fairy godmother who turns pumpkins into carriages—only this time, it's turning seeds into harvests.
Virtual Hugs and Real-life Meet-ups
From online forums to local meet-ups, the world of homesteading has endless ways to connect. Picture yourself chatting about heirloom tomatoes with someone halfway across the country or sharing compost tips over a cup of tea with a neighbour. It's like expanding your homestead family.
Conclusion: Winning At Your UK Homesteading Adventure
There you have it, fellow self-sufficient UK homesteaders and nature lovers, the journey to creating your own self-sufficient haven right here in the UK. We've covered everything from planting seeds to harnessing wind power, cuddling chickens, and connecting with kindred spirits. It's been a ride filled with dirt under our nails, laughter in our hearts, and a deep connection to the Earth.
Remember, this isn't just about tending to gardens and animals; it's about embracing a way of life that's kind to the planet and fulfilling for the soul. So whether you're a seasoned gardener or a newbie with a heart full of dreams, the path to self-sufficiency is waiting for you to take that first step.
Now, my friend, it's time to roll up your sleeves, put on your gardening gloves, and dive into self-sufficient UK homesteading. Let your journey be as vibrant and beautiful as the blooms in your garden, as harmonious as the laughter of your animals, and as heartwarming as the connections you'll make along the way.
So, what are you waiting for? Your self-sufficient adventure awaits! Happy homesteading, and may your days be filled with the joy of tending to the Earth, nurturing life, and living a truly good life.
Back To The Good Life is a participant in the Amazon Services LLC Associates Program, an affiliate advertising program designed to provide a means for sites to earn advertising fees by advertising and linking to Amazon.com. We also participate in other affiliate programs which compensate us for referring traffic.