Welcome to 2023! – February Update
Just a heads up, this post contains some affiliate links. That means that we earn a small commission if you buy the product at no extra cost to you. That allows us to continue to research and share interesting articles with you. :)
We really do need to put out these updates more often, but life is BUSY right now!
Last time we spoke, we were letting you know all about the things that had happened in the summer. From the tadpoles to the furry invaders to the bees and our plans for winter!
Allotment Times
This year is looking like it is going to be just as busy, not only are we planning our "proper" wedding in May (we got legally married last year, but this year is the big bash!), but we've also taken on an allotment! This is really exciting for us, it's 75 feet (approximately 28m) by 30 feet (approximately 9m) that's a space of around 2250 square feet (252m2) for us to grow in, much bigger than our little garden at home.
Right now, we're working on putting in the raised beds. This is how we're planning to use the space: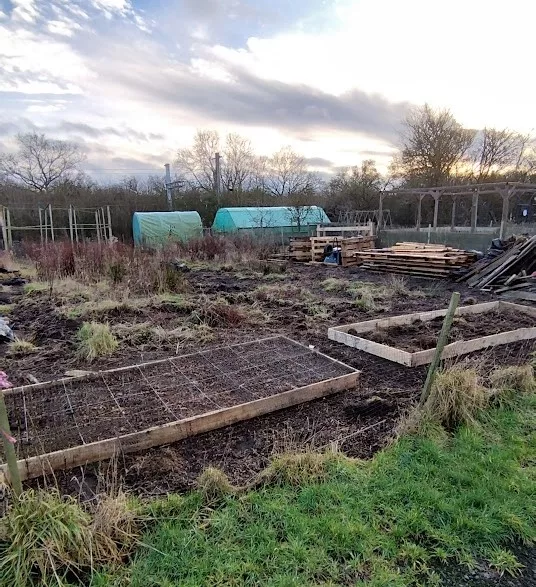 Ten 10 foot by 4 foot raised beds, giving us 400 square feet of vegetable growing space
A 7×7 foot physic garden to grow herbs and flowers that ar used in medicinal preparations
A 12x3foot herb garden for kitchen herbs,
We already have a 10×6 foot polytunnel on the site (although it does need a new cover!)
We have a 4x3foot shed that is currently being used as a tool shed and will eventually become the composting loo (there are no toilets on our site and the closest one is a drive away).
We've got enough space for chickens; we're planning an 11 foot square area for them.
We have a little pond, and around that, we're hoping to grow wildflowers to help the bees and the other pollinators
We may even have enough space for some bees (this is way off yet, though)
We're also planning to put in a summer house/larger shed down the back with a picnic table out front. This will be a really nice area for Niki to work in during the summer months. We have a great phone signal down at the allotment, and being the nerd she is, Niki has plans to install WiFi and cameras down there too.
We don't actually have any mains power, but we've done lots of research about off-grid energy and we are confident that we can generate enough power to run the wifi router, the cameras, and even the irrigation system too. Check back over the summer to see if our plans to build a solar tracker have worked or not!
Capturing It All On Film
As if 5 jobs between us, an allotment, and a wedding to plan aren't quite enough, we're also planning our YouTube channel! We really love the idea of being able to share our journey with you all, not just in print but also on film. It will be wonderful memories for us and hopefully, it will be interesting for anyone who wants to join along and watch us!
The channel isn't quite ready to go yet, we hit a few snags (mostly that Niki is nervous in front of a camera!) but we are almost ready to get up and running. You can subscribe already if you want to; we're hoping to have the first videos out at the beginning of March 2023!
Do you want to see the YouTube channel succeed? If you have any suggestions or just a little pep talk to help with the bravery of launching, drop us a message on Instagram, we'd love to hear from you!
Traditional Craft Revival
One really exciting thing that happened just a few weeks ago was that we got to spend some time with a very dear personal friend of Niki's, Jon Baily (and his lovely wife Eva!). Jon is a greenwood wood turner and turns greenwood bowls.
We got the opportunity to hang out with him and his lovely wife for a weekend and watch the whole bowl-turning process from start to finish. Niki captured lots of video and images for Jon to use on his website, and at the end we were gifted a gorgeous walnut bowl (the same one we'd been watching turning from half a tree trunk into a bowl!).
It's always great to see traditional crafts being done, especially something that seems simple but so satisfying to watch. Jon has a small business, and he has a real passion for what he is doing. Check out his work at his website: www.jbwoodcrafts.co.uk
Signing Off
That's about it for today. A lot is going on, and we're so excited to see the first budding of spring popping through now. We hope you're all well and look forward to sharing our journey with you even more!
Much love
Niki & G
xx
Back To The Good Life is a participant in the Amazon Services LLC Associates Program, an affiliate advertising program designed to provide a means for sites to earn advertising fees by advertising and linking to Amazon.com. We also participate in other affiliate programs which compensate us for referring traffic.