The Great Greenhouse Debate: Is a Glass or Polycarbonate Greenhouse Better?
Just a heads up, this post contains some affiliate links. That means that we earn a small commission if you buy the product at no extra cost to you. That allows us to continue to research and share interesting articles with you. :)
Ah, the joys of gardening! I remember the day I decided to take my green thumb to the next level by investing in a greenhouse.
The idea of growing my own fruits, veggies, and flowers all year round, while being eco-friendly and self-sufficient, was nothing short of a dream, but then, I stumbled upon a conundrum that every aspiring greenhouse owner faces: should I go for glass or polycarbonate?
If you've ever found yourself pondering this question, then you've come to the right place.
In this article, we'll delve into the great greenhouse debate: glass vs. polycarbonate. We'll explore the pros and cons of each material, share some personal anecdotes, and provide product suggestions for each type of greenhouse.
By the end of this read, you'll have all the information you need to make an informed decision and kickstart your journey to living the good life, surrounded by your home-grown greens.
So, let's dive in and figure out whether glass or polycarbonate is the right choice for your greenhouse sanctuary. As the Good Lifers say, "A garden is a friend you can visit anytime!".
Glass Greenhouses
When it comes to greenhouse materials, glass has been the traditional choice for many years. With their classic appearance and superior light transmission, glass greenhouses have a timeless elegance that many gardeners find appealing.
Glass greenhouses are known for their ability to retain heat, making them ideal for colder climates. They also require less maintenance compared to some other materials, making them a great choice for busy gardeners.
In this section, we'll take a closer look at the advantages and disadvantages of glass greenhouses, explore the factors you should consider before making a decision, and provide some tips for making the most of your glass greenhouse. We'll also suggest some products to help you get started, whether you're an experienced gardener or just starting your journey with greenhouses.
The Advantages
Aesthetics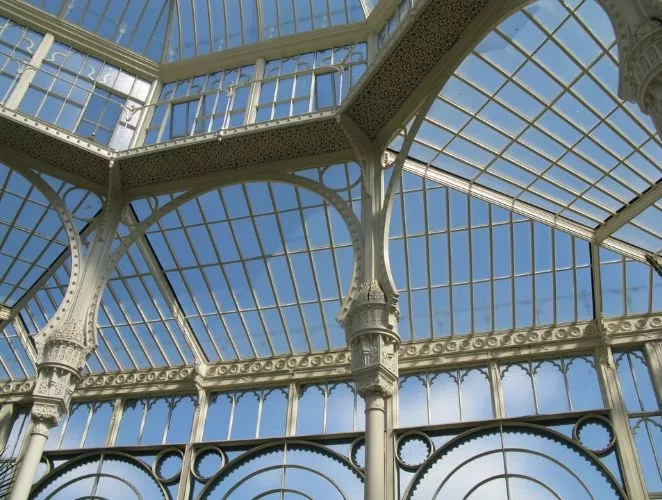 There's no denying that glass greenhouses have a timeless elegance to them. With their crystal-clear panels and classic design, they can instantly elevate the look of any garden. Many Good Lifers appreciate the beauty and charm that a glass greenhouse adds to their outdoor space.
Light transmission
One of the primary benefits of glass is its ability to allow maximum light transmission. This is essential for photosynthesis and the overall health of your plants. Glass panels are known to transmit over 90% of sunlight, ensuring that your plants receive the natural light they need to thrive.
Heat retention
Glass greenhouses are excellent at retaining heat, which makes them perfect for colder climates. The glass panels create a warm and cozy environment for your plants, allowing you to extend your growing season and cultivate a wider variety of crops.
Product suggestion: Hotop Greenhouse Repair Kit – If you're looking for a reliable and practical solution to secure your greenhouse, this glazing clips, bolts, and nuts set is a great choice. With 50 pieces of each component included, you'll have enough to satisfy your needs and secure your greenhouse against bad weather. Made of rustproof stainless steel and aluminum, these clips, bolts, and nuts are sturdy and suitable for most aluminum greenhouses with glass panes of 3 or 4 mm thickness. This kit is also suitable for double wall sheets, hollow panels, multiwall sheets, and more, making it a versatile and practical option for greenhouse owners who need to relocate, repair or replace panes or missing clips.
Durability
Glass panels are quite durable and, if well-maintained, can last for many years. A well-built glass greenhouse can withstand harsh weather conditions and keep your plants safe from the elements.
Disadvantages
Cost
Glass greenhouses tend to be more expensive than their polycarbonate counterparts. Not only are the materials pricier, but the installation and maintenance costs can also add up over time.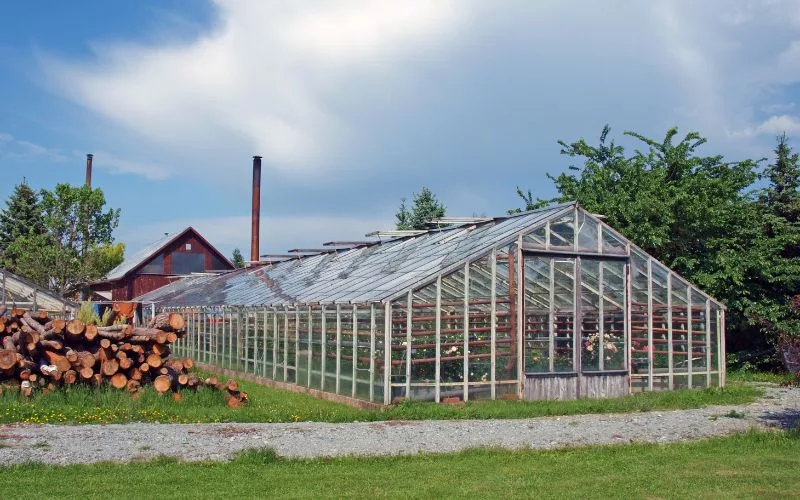 Fragility
Despite their durability, glass panels can break or crack under impact. Whether it's an errant soccer ball or an unexpected hailstorm, accidents can happen, and replacing broken glass can be quite costly.
Maintenance
Glass greenhouses require regular cleaning to maintain their transparency and ensure optimal light transmission. They may also need occasional resealing or caulking to prevent air leaks and maintain energy efficiency.
Environmental impact
The production of glass can be more energy-intensive than polycarbonate, which makes it less eco-friendly. Additionally, broken glass panels can be challenging to recycle and often end up in landfills.
Polycarbonate Greenhouses
Are you considering investing in a greenhouse but feeling overwhelmed by the options available? One of the biggest decisions you'll need to make is choosing between glass or polycarbonate for the material of your greenhouse. In this section, we'll take a closer look at polycarbonate greenhouses and what they have to offer.
Polycarbonate greenhouses have become increasingly popular in recent years due to their affordability, durability, and insulating properties. Made from a thermoplastic material, polycarbonate panels are lightweight and easy to install, making them a popular choice for those who want to get started with their greenhouse journey without breaking the bank.
In this section, we'll explore the advantages and disadvantages of polycarbonate greenhouses, share some tips for maximizing their potential, and provide product suggestions to help you get started. Whether you're a seasoned gardener or a beginner, learning about the benefits of polycarbonate greenhouses can help you make an informed decision for your gardening needs.
Advantages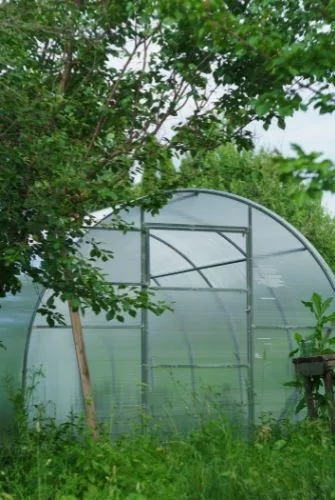 Affordability
One of the main draws of polycarbonate greenhouses is their affordability. The materials are less expensive than glass, making it a budget-friendly option for Good Lifers who want to enjoy the benefits of a greenhouse without breaking the bank.
Durability
Polycarbonate is a highly durable material that can withstand impacts and harsh weather conditions. This means fewer worries about accidents or storm damage, which can be a significant concern with glass greenhouses.
Insulation
Polycarbonate panels have excellent insulating properties, thanks to their multiwall construction. This feature helps maintain a stable temperature within the greenhouse, which is especially beneficial in regions with extreme temperature fluctuations.
Product suggestion: Garden Grow Polycarbonate Large Walk-in Greenhouse – This polycarbonate greenhouse is an excellent investment for any gardener. With features like integrated rain gutters and a roof window for ventilation, this greenhouse is designed to provide a comfortable and nurturing environment for your plants. The strong frame made of rustproof aluminum requires minimal maintenance and is built to last. The glass-free design, featuring lightweight yet durable 4-millimeter UV twin wall polycarbonate panels, provides excellent heat retention and diffused sunlight, creating the perfect growing conditions. Additionally, the sliding door design saves space and won't slam shut in strong winds.
Lightweight and easy installation
Polycarbonate greenhouses are generally lighter in weight compared to glass greenhouses. This makes them easier to install and allows for greater flexibility in terms of location and potential relocation.
Disadvantages
Lower light transmission
While polycarbonate greenhouses still provide adequate light for your plants, their light transmission is lower compared to glass. This can result in slightly slower growth and may require supplemental lighting for optimal plant health.
Aesthetics
Polycarbonate greenhouses may not have the same classic, elegant appearance as glass greenhouses. Some Good Lifers might find them less visually appealing, depending on personal taste and preferences.
Yellowing over time
Over time, polycarbonate panels can become discoloured or yellow due to exposure to UV rays. This can affect the aesthetics of the greenhouse and potentially reduce light transmission.
Less heat retention
Although polycarbonate offers better insulation than glass, it doesn't retain heat as effectively. In colder climates, supplemental heating may be necessary to maintain optimal growing conditions.
Factors to Consider When Choosing Between Glass and Polycarbonate
Climate
Consider the typical weather conditions in your area. If you live in a region with cold winters and lots of snow, a glass greenhouse with its superior heat retention might be a better choice.
On the other hand, if your climate experiences significant temperature fluctuations, a polycarbonate greenhouse with better insulation could be more suitable.
Budget
Evaluate your budget and weigh the costs of each option. While glass greenhouses have a higher upfront cost, their durability can make them a worthwhile investment for some. However, if you're working with a limited budget, a polycarbonate greenhouse might be the more practical choice.
Location
Think about where you'll be placing your glass or polycarbonate greenhouse. If you have a spot with potential hazards, such as nearby trees or an active play area, a durable polycarbonate greenhouse may be a safer option.
Purpose and goals of your greenhouse
Consider what you want to achieve with your glass or polycarbonate greenhouse. If aesthetics are important to you, a glass greenhouse might be the right choice. However, if you prioritize insulation and durability, polycarbonate could be a better fit.
Aesthetics and personal preference
Ultimately, your personal preference and desired aesthetics will play a significant role in your decision between a glass or polycarbonate greenhouse. Both glass and polycarbonate greenhouses have their own unique appeal, so choose the one that speaks to your style and vision for your garden.
Tips for Making the Most of Your Glass or Polycarbonate Greenhouse
Proper ventilation
Regardless of whether you choose glass or polycarbonate, maintaining proper ventilation in your glass or polycarbonate greenhouse is crucial. Ensure that your greenhouse has vents, windows, or doors that can be opened to regulate temperature and humidity levels. This will keep your plants healthy and prevent the growth of mould and mildew.
Insulation techniques
Maximize the insulation in your glass or polycarbonate greenhouse by using techniques like bubble wrap, thermal screens, or insulated curtains. These methods can help reduce heat loss during colder months and keep your glass or polycarbonate greenhouse energy-efficient.
Pest control
Keep an eye out for pests and address any issues as soon as they arise. Use organic and eco-friendly methods for pest control, such as introducing beneficial insects, using companion planting, or applying natural pesticides.
Efficient use of space
Make the most of your greenhouse space by utilizing vertical gardening techniques, such as trellises, hanging baskets, and wall-mounted planters. This will allow you to grow more plants in a limited area and make your glass or polycarbonate greenhouse more productive.
Product suggestion: Space-Saving 4 Tier Greenhouse Shelving Unit – This is is a versatile and durable storage solution that is perfect for any gardener. It can be used in walk-in and lean-to greenhouses, as well as in sheds, garages, and utility rooms. With its easy assembly and free-standing design, this shelving can be moved around with ease, making it an ideal choice for those who need to protect their plants or move them to a sunny spot.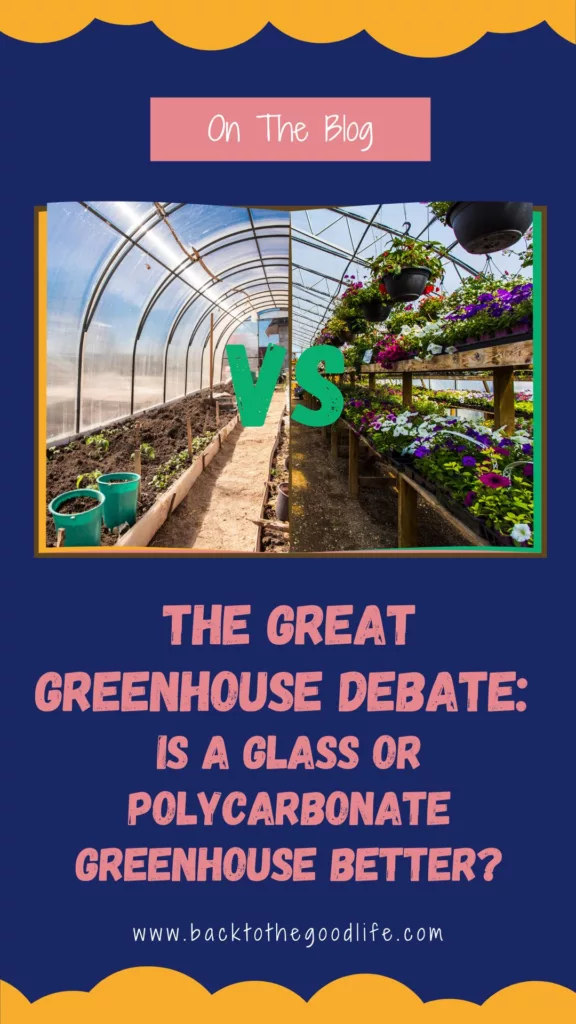 Conclusion
The great greenhouse debate – glass or polycarbonate – ultimately comes down to your personal preferences, needs, and circumstances.
Both glass or polycarbonate come with their own unique advantages and disadvantages, so carefully weigh the pros and cons before making a decision.
Whichever material you choose, your glass or polycarbonate greenhouse will undoubtedly bring you closer to the good life, filled with the joy and satisfaction of growing your own plants in a sustainable and eco-friendly manner.
Happy gardening, Good Lifers!
FAQs
Is glass or polycarbonate better for my greenhouse?
The answer depends on your specific needs, preferences, and circumstances. Both glass and polycarbonate greenhouses have their own advantages and disadvantages, as we've discussed in this article.
Consider factors such as your climate, budget, and personal preferences when making your decision between glass or polycarbonate greenhouses.
How do I maintain a glass or polycarbonate greenhouse?
Glass greenhouses require regular cleaning to maintain optimal light transmission and occasional resealing or caulking to prevent air leaks.
Polycarbonate greenhouses, on the other hand, are generally lower maintenance but may require UV protective coatings to prevent yellowing over time.
Can I switch from glass to polycarbonate or vice versa?
Yes, it is possible to switch from glass to polycarbonate or vice versa, but it can be a time-consuming and potentially expensive process.
If you're considering a change between glass or polycarbonate, weigh the benefits and drawbacks of each material before making a decision.
Are there any eco-friendly alternatives for glass and polycarbonate?
While glass and polycarbonate are the most popular choices for greenhouse materials, other eco-friendly options are available, such as recycled glass or bio-based plastics.
These materials may be harder to find and could be more expensive, but they offer a more sustainable alternative for environmentally conscious gardeners.
Back To The Good Life is a participant in the Amazon Services LLC Associates Program, an affiliate advertising program designed to provide a means for sites to earn advertising fees by advertising and linking to Amazon.com. We also participate in other affiliate programs which compensate us for referring traffic.