Go Plastic-Free: Easy Tips and Tricks for Cutting Out Plastic Waste
Just a heads up, this post contains some affiliate links. That means that we earn a small commission if you buy the product at no extra cost to you. That allows us to continue to research and share interesting articles with you. :)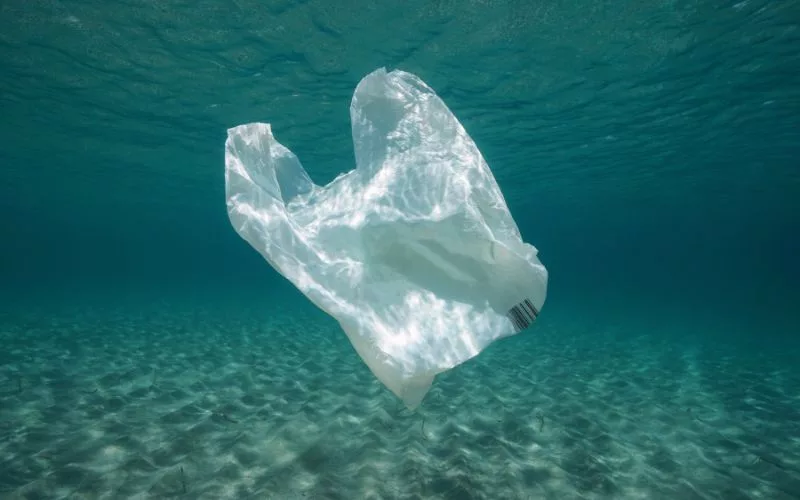 I remember the day I realised just how much plastic I was using in my everyday life. I was lying in the bath, surrounded by luxurious bubbles, and I couldn't help but notice the overwhelming amount of plastic waste staring back at me. My bath went from relaxing to horrifying within seconds.
That's when I decided to make a change and embrace as much of a plastic-free lifestyle as possible.
In this article, we'll explore tips and tricks to help you cut out plastic waste, live more sustainably, and become a true Good Lifer!
Start with Small Changes: The Key to Sustainable Success
Taking the first step towards a plastic-free lifestyle can seem overwhelming, but don't worry, Good Lifers! By starting with small, manageable changes, you'll build a strong foundation for sustainable success.
These easy adjustments not only help the environment but also allow you to experience the joy and fulfillment that come with being more eco-friendly. Let's dive into some simple ways to make a big impact on your plastic consumption.
Reusable Shopping Bags
By using reusable shopping bags, you'll prevent countless single-use plastic bags from polluting our environment. Plastic bags can take up to 1,000 years to decompose, posing a threat to wildlife and natural habitats. Embracing reusable bags is a straightforward and effective way to reduce your plastic footprint.
Suggested Product: EcoRight Canvas Tote Bag – I love these bags because they are endlessly reusable, really strong and easily washed. They also feature fun and inspiring designs, perfect for your next shopping trip. I particularly love the "need some space" bag, a quick nod to the X-files!
Ditch Plastic Straws
Did you know that plastic straws are one of the top 10 items found during beach cleanups? Making the switch to reusable straws is an essential step in preserving our oceans and protecting marine life. Plus, reusable straws can be a stylish and eco-friendly addition to your daily routine!
Suggested Product:I particularly like these Décor Go reusable steel straws because they have a silicone mouth piece for those of us with sensory issues who hate sipping from metal, glass, or bamboo staws! the set comes complete with a cleaning brush and storage pouch, for on-the-go sipping.
Opt for a reusable water bottle
Globally, more than 1 million plastic bottles are purchased every minute. By choosing a reusable water bottle, you'll reduce plastic waste and save money in the long run. Plus, insulated bottles keep your drinks at the perfect temperature – hot or cold – making them a versatile and practical choice.
Suggested Product: I love the Mininoo insulated stainless steel water bottles because they are available in various sizes and colours, perfect for staying hydrated while reducing plastic waste!
Say Goodbye to Cling Film
Cling film might seem like a kitchen staple, but it's a significant contributor to plastic pollution. By swapping out cling film for reusable beeswax wraps, you'll cut down on plastic waste and keep your food fresh in a more sustainable way. Beeswax wraps are also easy to clean and maintain, making them a fantastic alternative for eco-conscious Good Lifers.
Suggested Product: I love these Hunnybee Beeswax wraps because they come in in a variety of patterns, perfect for covering bowls or wrapping sandwiches and snacks while keeping your kitchen plastic-free!
Make Your Kitchen Plastic-Free: Embracing Eco-Friendly Practices at Home
The kitchen is the heart of every home, and it's also a significant source of plastic waste. By making your kitchen plastic-free, you'll be taking a crucial step towards a more sustainable lifestyle.
Adopting eco-friendly practices in the kitchen not only benefits the environment but also encourages healthier living for you and your family. So, let's explore some simple ways to transform your kitchen into an eco-friendly haven.
Store food in glass or stainless steel containers
Plastic food containers can leach harmful chemicals into your food, posing potential health risks.
By using glass or stainless steel containers, you'll keep your food fresh, reduce plastic waste, and create a safer environment for you and your family. Plus, these containers are often more durable and long-lasting than their plastic counterparts.
Suggested Product: Glass food storage containers don't have to be fancy, these Amazon basics glass food containers are available in multiple sizes and shapes, perfect for meal prep and leftover storage.
Use cloth or mesh produce bags
Single-use plastic bags for fruits and vegetables contribute significantly to plastic pollution.
By using reusable cloth or mesh produce bags, you'll help reduce plastic waste and make your grocery shopping experience more eco-friendly. These bags are lightweight, easy to clean, and perfect for storing your fresh produce.
Choose eco-friendly cleaning products

Traditional cleaning products often come in plastic packaging and contain harsh chemicals that can harm the environment.
By choosing eco-friendly cleaning products, you'll be taking a more sustainable approach to maintaining a clean and healthy kitchen. Biodegradable cleaning sponges and natural cleaning solutions are great alternatives to their plastic counterparts.
Suggested Product: These Epically Eco biodegradable cleaning sponges are made from plant-based materials, perfect for scrubbing dishes without harming the planet.
Buy in bulk to reduce packaging waste
Purchasing pantry staples in bulk is an excellent way to minimize packaging waste and save money.
Bring your reusable bulk food bags to local bulk stores, and fill them up with your favourite grains, pasta, nuts, and more. This practice allows you to buy only what you need, reducing food waste and plastic consumption.
Plastic-Free Personal Care and Beauty: Prioritizing Health and Sustainability
Our personal care and beauty routines can have a significant impact on the environment. By embracing plastic-free alternatives, you'll not only reduce plastic waste but also prioritize your health and well-being.
Many eco-friendly products are made with natural ingredients that nourish your body without harming the planet. So, let's explore some ways to create a plastic-free personal care and beauty routine that's good for you and the environment.
Swap plastic toothbrushes for bamboo alternatives
Did you know that over 1 billion plastic toothbrushes are thrown away each year in the US alone?
By switching to a bamboo toothbrush, you'll help reduce plastic waste and embrace a more sustainable oral care routine. Bamboo toothbrushes are biodegradable, making them an eco-friendly choice for Good Lifers.
Suggested Product: I like these bamboo toothbrushes with charcoal-infused bristles from QiEco. They are available in different bristle strengths, for a cleaner and greener smile!
Choose shampoo and conditioner bars
Switching to shampoo and conditioner bars is an excellent way to eliminate plastic bottles from your personal care routine.
These solid bars are often made with natural ingredients and are free from harsh chemicals, making them kinder to your hair and the environment.
Suggested Product: I'm a long-term convert to shampoo bars, they work brilliantly with dreadlocks but also great for G's silly hair too. We also use solid conditioner bars (the trick is to put the bar in a cup of warm water for a few minutes before you use it). These natural shampoo and conditioner bars from Bamboearth are infused with nourishing ingredients for various hair types, perfect for clean and healthy hair without plastic waste. The seaweed one of perfect for dreadlocks too!
Opt for reusable facial rounds
Disposable cotton pads contribute to both plastic and textile waste. By using reusable organic cotton facial rounds, you'll create a more sustainable beauty routine and minimize your environmental impact.
These soft, washable rounds can be used for makeup removal, applying toners, or any other skincare needs.
Suggested Product: These organic bamboo cotton facial rounds from Spaces are perfect for makeup removal and applying toners while reducing waste. The pack even includes a headband to keep your freshly washed locks out of your eyes while doing your facial routine!
Look for plastic-free makeup and personal care products
Many conventional makeup and personal care products come in plastic packaging, which contributes to plastic pollution.
By seeking out cosmetics and personal care products with sustainable packaging and ingredients, you'll create a more eco-friendly beauty routine and support companies that prioritize the environment.
Suggested Product: Sustainable and plastic-free cosmetics are difficult to come by, but I LOVE this plastic-free eyeliner from Sprout. It's a vegan formula and isn't cased in plastic which is great, but the best bit is that you can plant the eyeliner when you're done using it and grow wildflower seeds!
Get Involved in Your Community: Spreading the Plastic-Free Message
Going plastic-free is not just a personal journey but also a community effort. By getting involved in your local community, you can help spread awareness about the importance of reducing plastic waste and inspire others to adopt eco-friendly practices.
Together, we can make a difference and create a cleaner, healthier world for all.
Here are some ways to engage with your community and promote plastic-free living:
Support local businesses with eco-friendly practices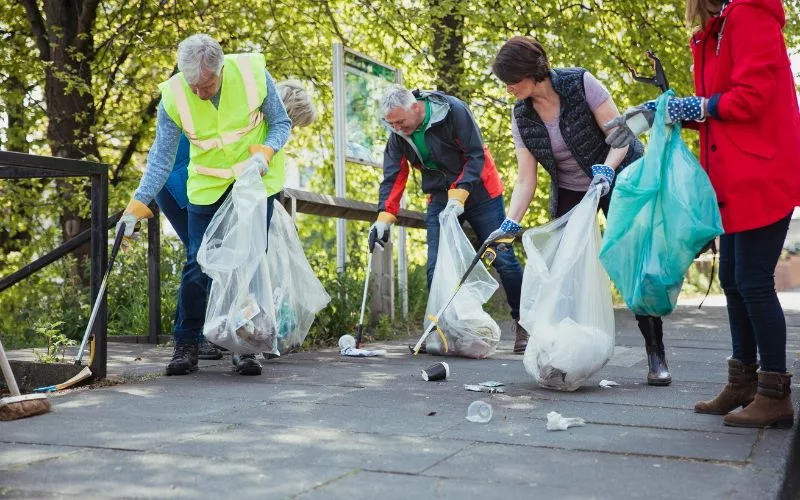 Choose to shop at local businesses that prioritize sustainability and plastic-free alternatives. This not only supports the local economy but also helps the environment by encouraging the use of eco-friendly products and practices.
Participate in community clean-up events
Join or organize community clean-up events to help reduce plastic waste in your neighborhood. It's a great way to make a positive impact while connecting with like-minded Good Lifers who share your passion for sustainability and eco-friendly living.
Share your plastic-free journey with friends and family
Inspire others to adopt a plastic-free lifestyle by sharing your experiences and tips. Encourage them to join you in making the world a cleaner, greener place, and celebrate your collective achievements as a community of Good Lifers.
Final Thoughts: Embracing the Good Life with Plastic-Free Living
Going plastic-free might seem like a daunting task, but by following these tips and tricks, you'll be well on your way to reducing plastic waste and living a more sustainable lifestyle.
Remember to start small, make changes in your home and personal care routines, and engage with your community to create a collective impact.
As you embrace the plastic-free journey, you'll not only become a true Good Lifer, but you'll also contribute to a better world for ourselves, our families, and future generations.
So, let's work together to make a difference, one eco-friendly choice at a time!
FAQs: Addressing Common Questions About Going Plastic-Free
As you begin your quest to rid your life of plastic, you may have some concerns or questions about how to make the process as easy and successful as possible.
We've compiled some frequently asked questions to help guide and support you in your pursuit of a more sustainable and eco-friendly lifestyle.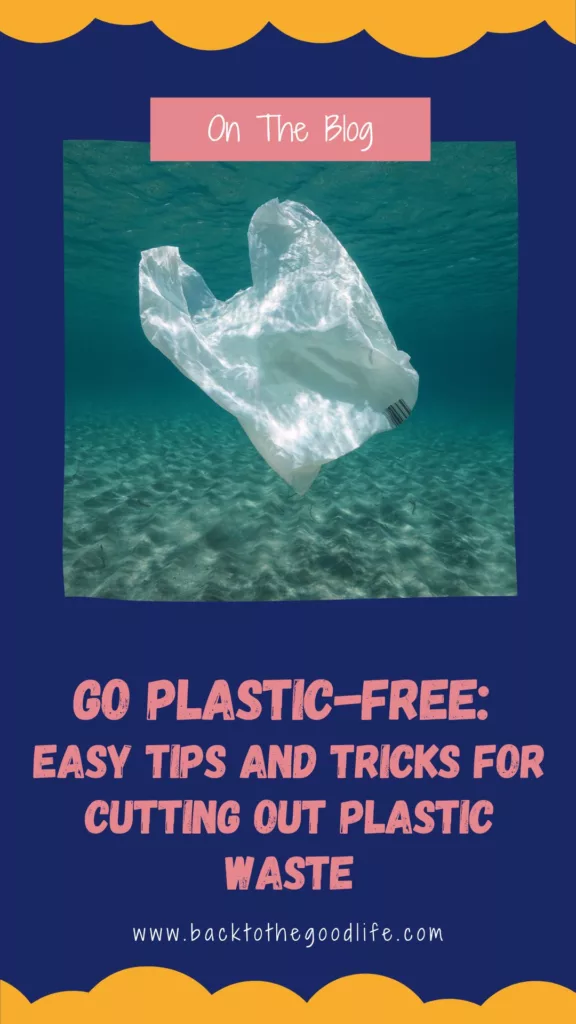 Why is reducing plastic waste important?
Reducing plastic waste is crucial because it helps conserve resources, protect wildlife, and minimize pollution. Plastic takes hundreds of years to break down and can harm ecosystems and human health.
By reducing plastic consumption, we can create a cleaner, more sustainable world for ourselves and future generations.
How do I convince others to join me in going plastic-free?
Lead by example and share the benefits of going plastic-free with others. Show them how easy and fulfilling it can be to make sustainable choices and reduce plastic waste.
Share your experiences, tips, and favourite eco-friendly products to inspire and encourage them to join you on this journey.
What are some common challenges when trying to cut out plastic waste, and how can I overcome them?
Common challenges include convenience, cost, and limited availability of plastic-free alternatives.
To overcome these challenges, plan ahead, invest in reusable items, and explore local resources for eco-friendly products and services. Be patient and persistent in your efforts to make sustainable changes, and remember that every small step counts.
Back To The Good Life is a participant in the Amazon Services LLC Associates Program, an affiliate advertising program designed to provide a means for sites to earn advertising fees by advertising and linking to Amazon.com. We also participate in other affiliate programs which compensate us for referring traffic.