Master the Art of Food Preservation: Essential Tips for Achieving Food Security
Just a heads up, this post contains some affiliate links. That means that we earn a small commission if you buy the product at no extra cost to you. That allows us to continue to research and share interesting articles with you. :)
Food security means different things to different people. For some of us, being food secure means having a few months' supplies of food in the pantry ready for whatever might happen (such as a job loss or a global shortage), and for others, it means learning how to cook and preserve food for our family's future.
In this post, we're going to look at a hybrid model of food security with food preservation and explore why being able to preserve food is an essential skill for these troubled times we find ourselves in.
Why Is Food Preservation An Essential Skill?
To get to the heart of the matter, food preservation is an essential skill to learn because it will allow you to stock your pantry with high-quality, nutritious, and tasty food that will last longer than fresh food. This allows you to shop less (saving you money) and waste less food than you might otherwise.
You can also easily integrate food preservation into other types of food preparation, such as adding dehydrated greens to your regular food and drink (think green smoothies) for an added boost of nutrition.
Fighting Against Food Insecurity
A great part of the history and culture of our world involves food preservation, from ancient civilizations that dried or salted their food for storage to the Native Americans who used smokehouses to preserve meat and fish over the winter.
Preserving your food will allow you to explore new tastes and discover new foods you would never have sampled otherwise. It also gives you access to safe and nutritious food during the most challenging growing times.
If you're interested in delving deeper into the rich history and culture of food preservation, we highly recommend checking out The Good Life Press' selection of books on the subject; our particular favourite is Precycle by Paul Peacock (available on Amazon).
From ancient techniques to modern methods, you'll find a wealth of information on preserving food for yourself and your family. Not only will you learn about new and exciting ways to preserve food, but you will also have access to safe and nutritious food during the most challenging growing times.
Food Preservation Methods
Food preservation is a big topic, and food security is part of that. There are many nutritious food options when considering what food preservation methods to go with. The most popular home preservation methods are canning, dehydrating, making preserves (jams, jellies, pickles, and chutneys), fermenting, and freezing.
Except for canning, the above methods of food preservation are all fairly low-cost and can be done at home without a lot of expensive equipment or knowledge.
Here's a quick overview of the at-home food preservation methods most commonly used and how you can stock your food security pantry with safe and nutritious foods that will last a long time.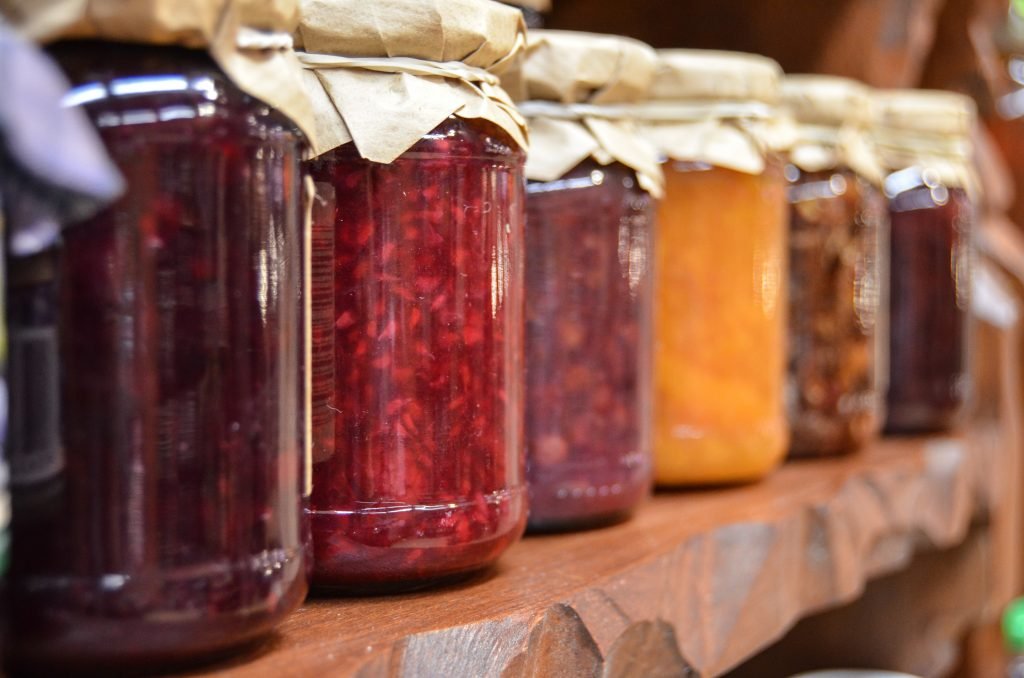 Canning
Canning is a method of preserving food by putting it in an airtight, waterless sealed container and sealing the jar with a lid. Canned foods do not require using any additional ingredients or seasonings.
Examples of foods preserved in sealed jars include jam, jelly, condensed soup in a jar, tomatoes, fruit preserves in a jar, pickles in a jar, and salsa. For more advanced canners, it is also possible to can meat for long-term food storage.
Drying/Dehydrating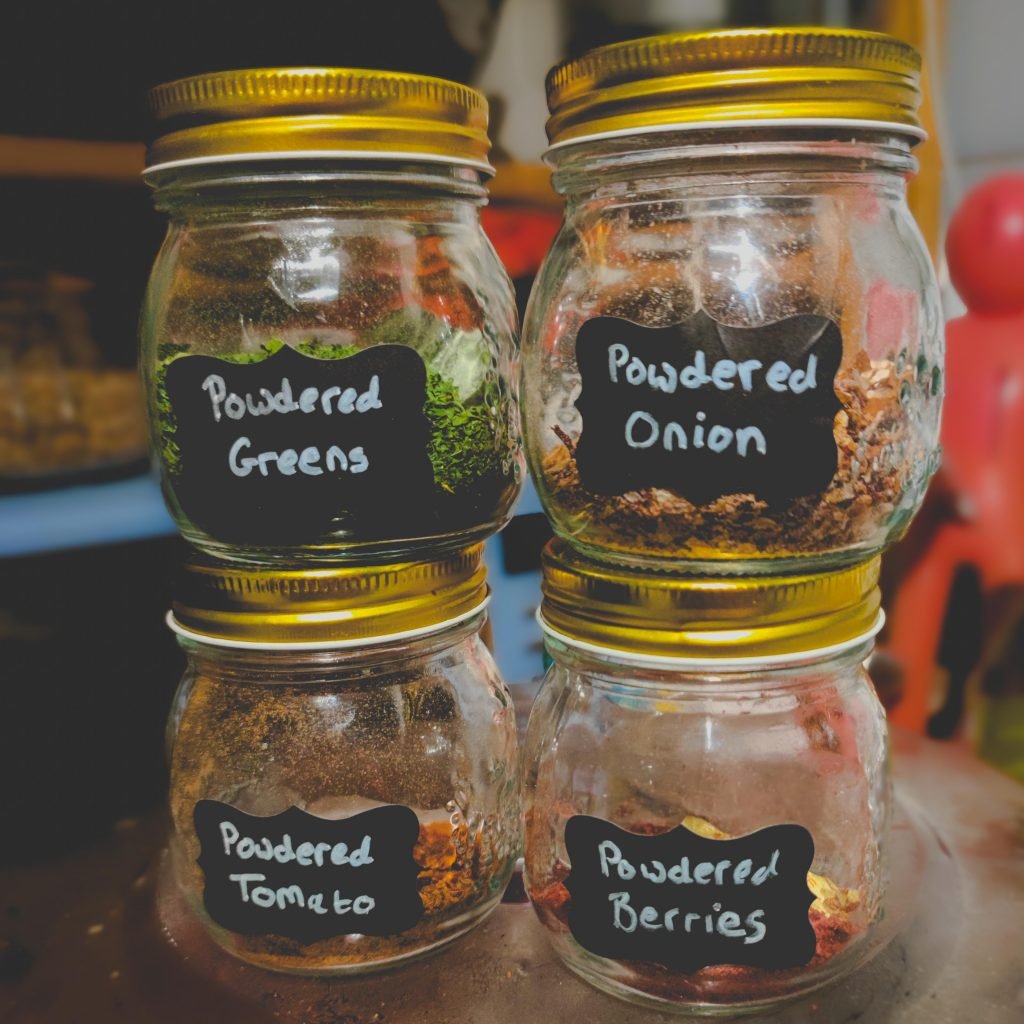 Drying is one of the oldest methods of preserving food. It is done by removing the moisture from food. When dehydrating food, the food is gently heated to remove moisture.
Different dehydration levels depend on your use of food. For a powder, for example, onion powder, all moisture must be removed before the food is ground into powder. For fruit leather, the fruit doesn't need quite as much dehydration.
Dehydrated foods are usually healthier than canned foods since canning adds salt and sugar to improve flavour. Dehydrated foods are usually more nutritious, too, since they contain all the vitamins, minerals, and antioxidants that leech out into the water when fresh fruits or vegetables are boiled or cooked for preservation.
This is a method we are really passionate about; below is a video we made all about dehydrating garlic to make it into garlic powder!
Jams, Jellies, and Chutneys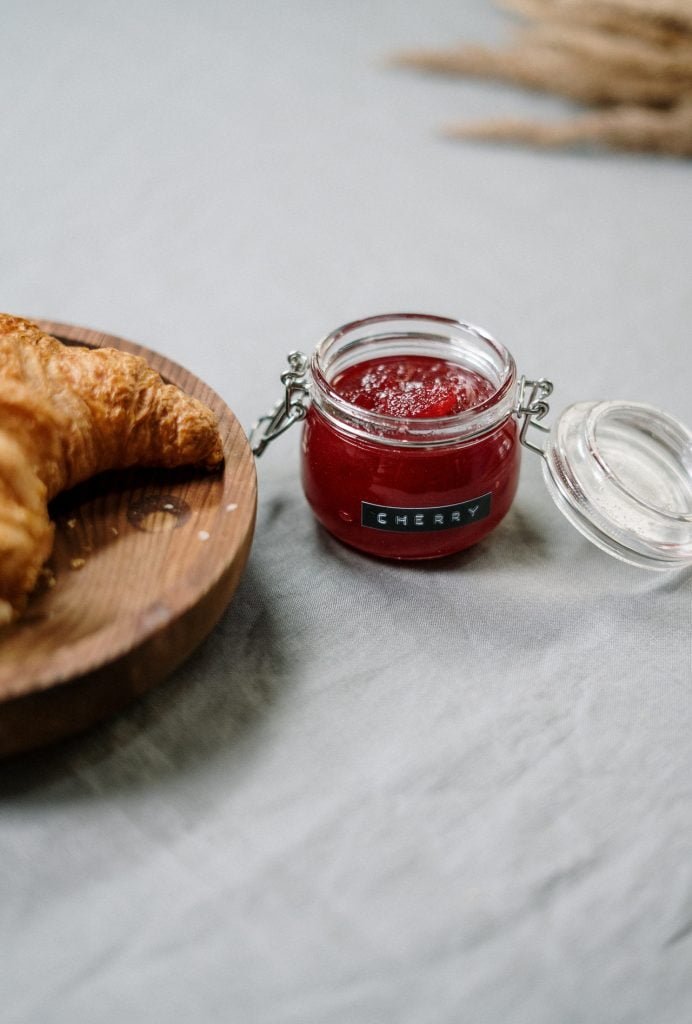 Jams, jellies, and chutneys are all made from a base of fruit or juice cooked until it softens and concentrates into a thick sauce. Some popular preserves include apple butter, raspberry jam, peach jam, apricot jam, cherry jam, and raspberry jam.
Preserves are very sweet; they are heated to a high temperature with sugar (usually 50/50 sugar to fruit for jams) and added pectin to allow the preserve to set.
Chutneys are slightly different but still follow the same guidelines. The ingredients must be heated to a thick sauce before being transferred to hot sterilised jars for preservation.
A chutney is traditionally a flavoured or fruit/vegetable-based sauce and contains vinegar and spice. This can be used as an ingredient to dishes (for example, adding mango chutney to curry dishes) or as an addition to a dish, such as using caramelised red onion chutney with cheese.
Pickles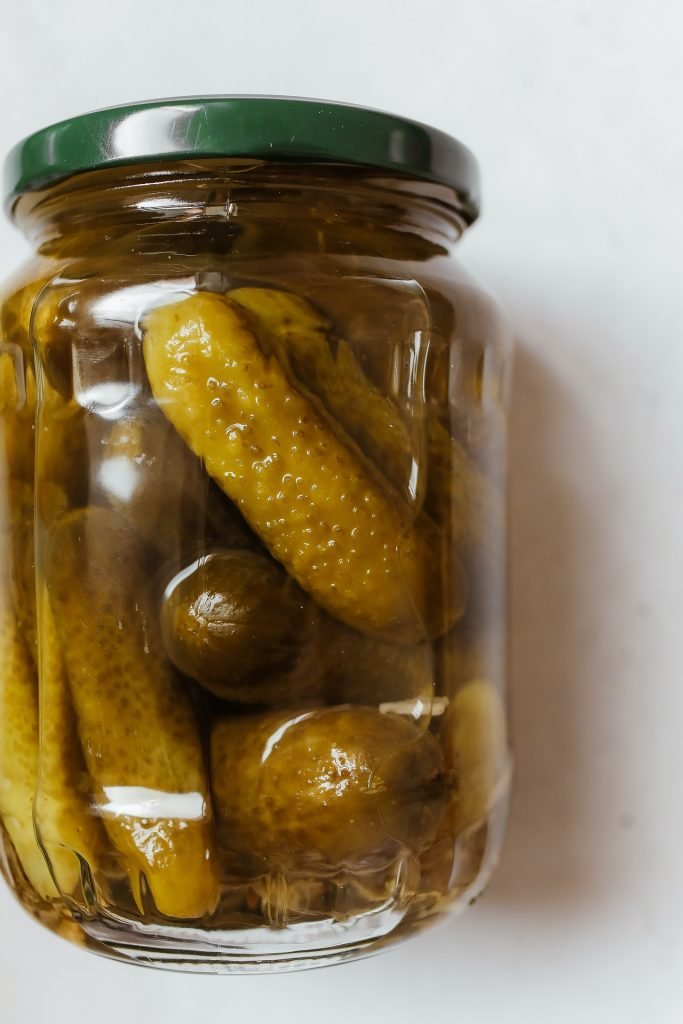 Making pickles is a very simple process. It is done by slicing a known quantity of vegetables (cucumbers and onions are the most popular) and placing them in a jar with water, salt, sugar, or vinegar solution. The jars are sealed and left to sit for a while (usually between 3-10 days).
Depending on the food, pickles can last for months, if not years, before they are opened.
In England, pickled onions and hard-boiled eggs are very popular and can be found as popular bar snacks in village pubs.
Almost any vegetable can be pickled, but some pickles are better than others. Pickles are generally relatively safe to make and eat, but caution must be taken around homemade pickles.
Fermenting
Fermentation is a popular choice of food preservation and a brilliant health food to add to your food security pantry! It is very easy to do and adds good bacteria to your diet. Fermenting is possibly one of the oldest forms of food preservation and can be used to preserve a huge array of food, as well as to create alcoholic drinks such as beers, wines, and ciders which all rely on the fermentation process.
Fermentation can also preserve dairy products such as yoghurt, buttermilk, cheese, and butter.
Vegetables and meats that have been fermented, like sauerkraut and kimchi, can be stored for 5–7 days before being eaten. It is possible to age these foods to the extent that they're edible (and good!) for many months.
Fermenting foods into alcohol takes a little more work (and a high level of cleanliness), but the results can be great! Home preservers can easily create very drinkable wines, beers, and ciders out of fruit and vegetable scraps in as little as two weeks.
Food security doesn't always mean a pantry full of jars; sometimes barrel of beer is a good start!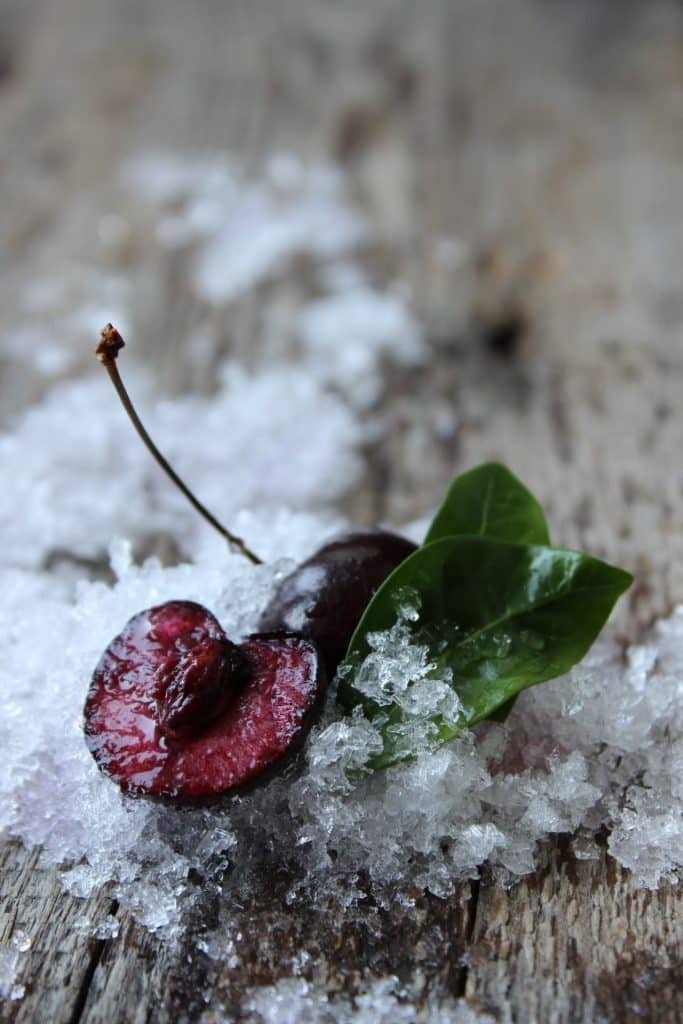 Freezing
Freezing is an incredibly easy method of food preservation and probably the one that practically everyone does without considering it "food preservation".
Freezing is the act of placing freshly picked or harvested produce in a freezer or cooler to freeze it. Freezing can be done on the farm, at home, or in a commercial freezer.
Freezing preserves food by drastically reducing spoiling time, but freezing food doesn't work well for long-term storage. Freezing can help preserve some highly perishable foods for up to 3–6 months, but it can't be done for more than this.
Learning To Preserve Food
If you are interested in learning more about food security and preserving food at home, many free online resources are worth checking out.
Start with the basic and easy food production and preservation methods, like freezing and dehydrating, and work your way up to the more complicated methods, such as making preserves and canning.
Project Gutenberg hosts a lot of out-of-copyright books on preserving food and medicine, while the American National Center for Home Food Preservation is a wealth of resources.
You might be looking for a cheap way to keep food fresh and fill your pantry with healthy options. In that case, we suggest looking at the selection of tools and equipment for food preservation available online.
You'll find everything you need to get started with popular methods like canning, dehydrating, making preserves, fermenting, and freezing, like canning supplies, dehydrators, fermenting equipment, and more, and the best part is that, except for canning, all of the methods are pretty cheap and can be done at home without a lot of expensive equipment or knowledge. Follow this link to see what's available and get started preserving your food right away.
What is The Importance of Food Security To Society?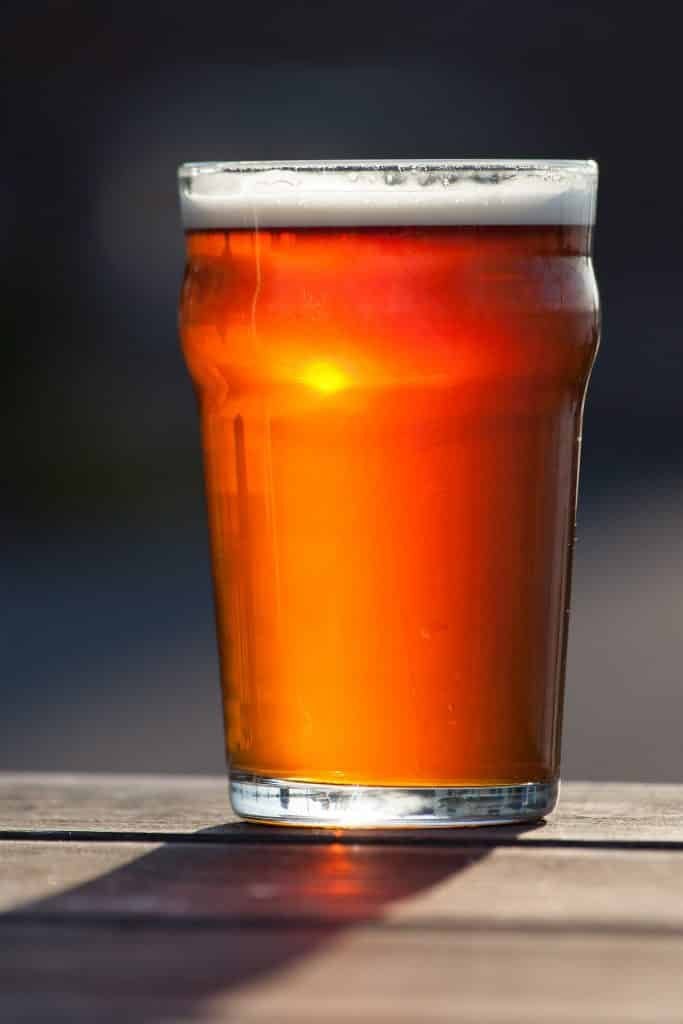 Food security (and insecurity) are important topics, especially in the global food system. The importance of food security to society depends on the degree to which it controls food supplies and how food has been viewed as a part of an active and healthy life for citizens.
Food security includes two main issues: "the stability of food supplies" and "affordability of food supplies." The stability of food supplies depends on household income and prices; the affordability of more affordable food requires a reliable source and consistent supply thereof (e.g., local farmers).
Food security is an issue of global proportions. Global food security and the global food system's challenges affect food security the most. For example, climate change directly impacts the availability and cost of food supplies in certain regions. Food prices are directly affected by how much people can buy because of supply and demand.
Focusing on A Future With Food Security In Mind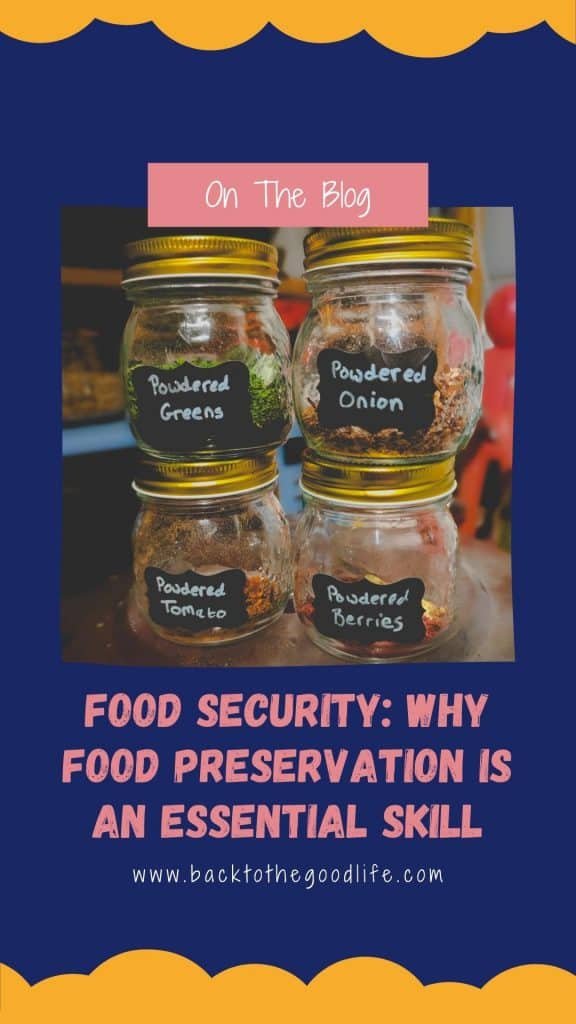 You can build up your food security and feel good when you have access to sufficient, safe, and nutritious food at home. If you don't have food security, you feel hungry, or you don't have enough money to buy food or have access to food for your family, it can affect all areas of your life, adding stress and even contributing to illness. You aren't worried about tomorrow's meals when you have food security.
Food security depends on many things – like the price of food, people's eating habits, public services/facilities provided by the government and private companies/companies, income sources, etc.
Back To The Good Life is a participant in the Amazon Services LLC Associates Program, an affiliate advertising program designed to provide a means for sites to earn advertising fees by advertising and linking to Amazon.com. We also participate in other affiliate programs which compensate us for referring traffic.