Navigating Independence: Homesteading vs Off-Grid Lifestyles
Just a heads up, this post contains some affiliate links. That means that we earn a small commission if you buy the product at no extra cost to you. That allows us to continue to research and share interesting articles with you. :)
Hey there, fellow gardeners, allotment holders, and eco-conscious friends! As someone knee-deep in soil and sustainable living, I know the rewarding journey you're about to embark upon. Allow me to guide you through a path close to my heart – the captivating world of homesteading vs off-grid living.
Years ago, when my husband G and I first embraced our homesteading adventure in the charming southwest of the UK, we were filled with excitement and trepidation. Our full-time jobs don't deter us from nurturing our own haven of greenery and embracing a lifestyle that resonates with our values.
Our dog Dilly has become our enthusiastic companion, and as we toil to grow our own vegetables, foster wildlife, and minimise our ecological footprint, we realise the potential of living in harmony with the land.
Homesteading and off-grid living are not mere concepts for me; they're the essence of my everyday life. Our journey illuminated the beauty of becoming self-reliant and ecologically mindful. Now, let's journey together as we uncover the nuances of homesteading vs off-grid living.
These lifestyles aren't just trends; they're conscious choices that have the power to reshape our lives and our world. Throughout this article, we'll explore the intricate tapestry of these choices – the advantages they offer, the challenges they present, and the incredible fulfilment they bring. Whether you're seeking a greener thumb, a simpler existence for your family, or a touch of that hippy spirit, you're about to discover a world of possibilities.
So, let's embark on this exciting journey towards a more wholesome and fulfilling future!
From Concepts To Reality: Exploring Both Lifestyles
In the heart of sustainable living lie two compelling pathways: homesteading vs off-grid living. These lifestyles encapsulate the essence of embracing the land, nurturing wildlife, and fostering self-sufficiency. Homesteading celebrates the art of cultivating your own piece of earth, while off-grid living ventures further by disconnecting from conventional utilities.

Both choices generally share a commitment to authenticity, eco-consciousness, and a yearning for harmony with nature.Let's delve deeper into these dynamic concepts and uncover the distinct tapestries they weave in our pursuit of a mindful, self-reliant existence.
Embracing the Land
Homesteading is all about connecting with nature and making the most of your land. Whether you have a small garden or a sprawling acreage, you can create a thriving homestead.
When you grow your own fruits, vegetables, and herbs, not only will you have fresh, organic produce at your fingertips, but you'll also reduce your carbon footprint and support sustainable agriculture.
By raising animals for food, such as chickens for eggs or goats for milk, you'll discover a great way to ensure your family has a steady supply of wholesome, ethically sourced food.
Self-Reliance
Homesteading is about taking control of your own destiny. By learning essential skills like gardening, preserving food, and basic carpentry, you become less reliant on external systems and more self-sufficient.
Investing in tools and equipment that will help you on your homesteading journey. For example, a high-quality greenhouse can extend your growing season and provide a haven for your plants.
Living in Harmony with Nature
Homesteading is not just about growing your own food; it's about living in harmony with the natural world. Embrace sustainable practises like composting, rainwater harvesting, and renewable energy sources.
You may consider using eco-friendly products and materials in your homestead. For example, opt for natural fertilisers and pesticides to protect your soil health and promote biodiversity.
Now that you have a taste of homesteading vs off-grid living, are you ready to take the plunge? Keep reading to find out which lifestyle fits you best.
What is Off-Grid Living?
Are you ready to disconnect from the hustle and bustle of modern life? Off-grid living is the answer you've been searching for, but what exactly does it mean to live off the grid? Let's dive in and explore the ins and outs of this sustainable lifestyle choice.
Energy Independence: Off-grid living means generating your own power through renewable sources such as solar panels or wind turbines. Say goodbye to those hefty electricity bills!
Water Self-Sufficiency: Living off the grid also involves collecting and conserving water. Rainwater harvesting systems and well water can be used for all your household needs.
Sustainable Food Production: Growing your own food is a fundamental aspect of off-grid living. Whether you have a small garden or a larger plot of land, you can cultivate your own fruits, vegetables, and herbs.
Kickstart your off-grid garden with our organic seed starter kit. It includes a variety of organic seeds that will thrive in your sustainable oasis.
Living off the grid offers a sense of freedom and self-reliance that is hard to find in today's fast-paced world, but it's not without its challenges.
Embracing Homesteading: Cultivating Connections with the Land
Homesteading is more than just a lifestyle; it's a heartfelt commitment to living in harmony with the land. Rooted in self-sufficiency, it entails transforming your living space into a thriving ecosystem of sustenance and abundance.
Harmonious Land Stewardship: Homesteading involves nurturing the land as a responsible steward, cultivating a diverse range of crops and plants that thrive in harmony with the local ecosystem.
Self-Sufficiency and Resilience: Homesteaders strive to reduce reliance on external resources by producing their own food, energy, and everyday necessities, promoting resilience in the face of disruptions.
Community Integration: While fostering independence, homesteading often occurs within existing communities, encouraging shared knowledge, collaboration, and the exchange of resources for a sustainable and interconnected way of life.
Homesteading resonates deeply for those of us on the journey of cultivating our own vegetables, nurturing wildlife, and minimising our ecological footprint.
Unlike its counterpart, off-grid living, homesteading often takes place within existing communities or suburban areas. This offers the unique advantage of fostering a strong connection with neighbours and nearby resources. Through shared knowledge and collaborative efforts, homesteaders contribute to the greater good while embracing the principles of sustainability and responsible living.
While homesteading allows you to tap into the rewards of self-reliance and eco-consciousness, it doesn't necessarily require complete detachment from conventional utilities. This contrasts with the off-grid lifestyle, which aims to disconnect entirely from mainstream power, water, and communication systems.
Homesteading, therefore, presents an alluring balance between fostering independence and remaining connected within a community.
Homesteading Vs Off-Grid Living in the UK
In the context of the UK, homesteading takes on a character that resonates with the traditional practise of smallholding. Both approaches share a dedication to self-sufficiency and sustainable living, yet they manifest in distinctive ways.
Let's explore these two interconnected lifestyles and how they blend modern eco-consciousness with age-old practices.
Nurturing Abundance Close to Home
Homesteading in the UK mirrors the ethos of smallholding, embracing the ideals of self-sufficiency and ecological mindfulness. Key aspects include:
Urban Homesteading: Even within urban environments, homesteaders cultivate rooftop gardens, windowsill herbs, and vertical farming to maximise their connection with the land.
Wildlife-Friendly Spaces: Emphasis on wildlife conservation means creating habitats for local fauna, from hedgehogs to birds, contributing to the overall biodiversity.
Allotment Culture: Allotments, cherished plots of land for cultivation, serve as hubs of homesteading activities, fostering community engagement and the exchange of knowledge.
Smallholding vs Homesteading: A Nod to Agricultural Traditions
Smallholding aligns closely with the principles of homesteading, with a focus on holistic land management and sustainable practices: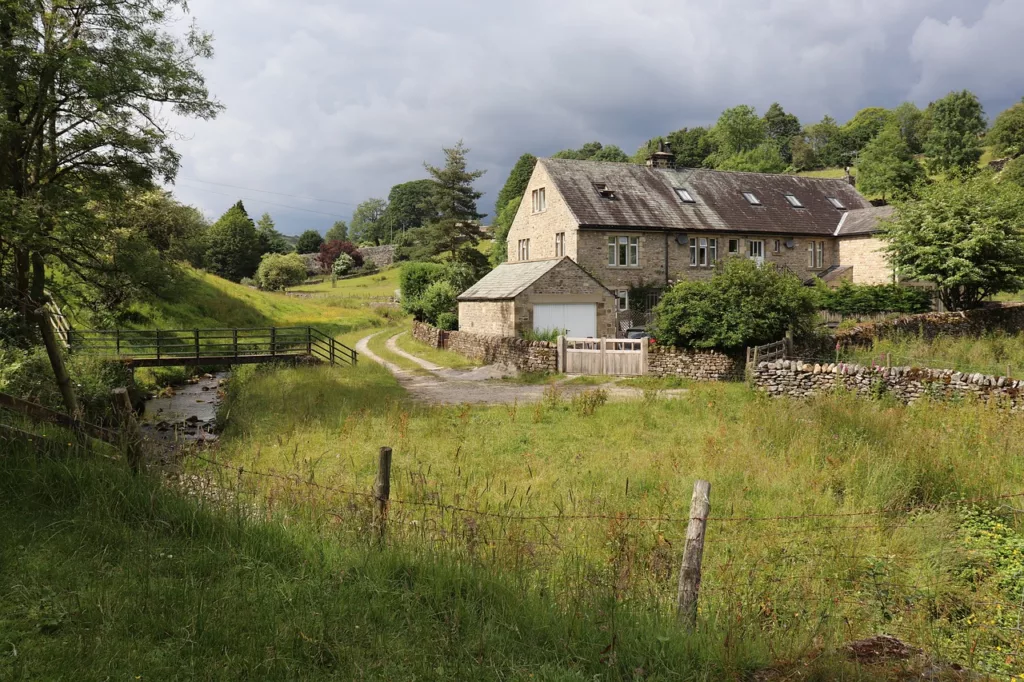 Diverse farming practices: Smallholders in the UK embrace mixed farming, integrating livestock, crop cultivation, and even orchards to create a self-sustaining ecosystem .
Animal welfare: Smallholding emphasises ethical treatment of animals, supports free-range practises, and contributes to the well-being of livestock.
Regenerative agriculture: Smallholders prioritise soil health, utilising methods such as crop rotation and minimal tillage to enhance the land's productivity.
Homesteading and smallholding inspire a conscious way of life that reverberates through generations. The resurgence of these practices in the UK echoes the nation's rich agricultural heritage while weaving in modern sustainability and self-reliance ideals.
Whether you're tending to a small plot or managing acres of land, the shared goal of embracing the land and nurturing it for future generations unites these two timeless journeys.
Off-Grid Integration: Blending Sustainability with Independence
An exciting trend in the UK is the integration of off-grid living practices into smallholding endeavours. This fusion amplifies self-sufficiency:
Renewable Energy: Smallholders are adopting solar panels, wind turbines, and biomass systems to generate their own clean energy, reducing dependence on conventional utilities .
Water Management: Rainwater harvesting systems and sustainable water usage methods are becoming integral, safeguarding water resources and enhancing self-reliance.
Eco-Friendly Structures: Straw-bale houses, Earthships, and other eco-conscious building techniques are gaining traction, aligning with the off-grid ethos of minimising environmental impact.
This dynamic convergence showcases the UK's innovation in harmonising traditional wisdom with modern advancements. As homesteaders and smallholders embrace off-grid techniques, they craft a tapestry of sustainability, resilience, and conscious living that inspires local communities and a global audience.
To kickstart your homesteading journey, I recommend this 8-piece garden tools set. The heavy-duty construction means it's built to last without rusting. The pruner's sharp blade and the weeder's design make gardening a breeze. Plus, those gloves offer serious protection. And the handy tote bag? Super convenient. Great gift idea for fellow garden lovers!
Curious to learn more about the thriving differences between homesteading vs off-grid living in the UK? Keep reading to discover the unique advantages, disadvantages, and lifestyle aspects that await you on this sustainable path.
Homesteading vs Off-Grid Living In The USA
Across the Atlantic, homesteading and off-grid living ideals take on a distinct hue in the vast expanse of the United States. Let's explore how these lifestyles resonate in the American landscape and uncover the unique flavours they bring to the pursuit of sustainable and self-sufficient living.
Homesteading: American Dream Rewoven
Homesteading in the USA echoes the pioneering spirit that once defined the nation's expansion westward. Today, it represents a conscious return to the land with a sustainable twist:
Rural Revival: Modern homesteaders embrace rural living, cultivating acres of land to reconnect with nature and create a sustainable haven.
Cottage Industries: The revival of traditional crafts and cottage industries supplements homestead income, promoting self-sufficiency within local communities.
Farm-to-Table Movement: Homesteaders contribute to the farm-to-table movement by producing fresh, organic produce that supports local food systems and reduces carbon footprints.
Off-Grid Exploration: Reclaiming Independence
Off-grid living in the USA embodies the American spirit of self-reliance, expanding beyond just a lifestyle to a statement of individuality:
Remote Retreats: Off-gridders seek isolated locations, from rugged mountains to serene valleys, crafting sustainable retreats that challenge conventional living norms.
Energy Frontier: Solar power, wind energy, and hydropower installations are prevalent, allowing off-gridders to harness renewable sources for a more sustainable and independent energy future.
Resilience Blueprint: Off-grid enthusiasts prioritise resilience, preparing for emergencies by incorporating skills like canning, foraging, and wilderness survival.
The canvas for homesteading vs off-grid living in the United States is expansive, reflecting the nation's diverse landscapes and the spirit of independence. Whether rekindling the legacy of self-sufficiency or forging new paths to autonomy, these lifestyles symbolise a profound connection to nature and a resolute commitment to a more sustainable world.
Unveiling Contrasts: Homesteading vs Off-Grid Living in the USA
Within the borders of the USA, the choices of homesteading vs off-grid living carve distinct pathways to self-sufficiency, sustainability, and life closely intertwined with the land.
Let's embark on a journey of exploration as we uncover the intricate differences between these two captivating lifestyles, each painting a unique canvas against the backdrop of the American landscape.
Homesteading embraces the nurturing spirit of traditional American agriculture, weaving modern sustainability into its fabric:
Scale and Community: Homesteaders often cultivate smaller plots of land, focusing on creating a harmonious ecosystem that sustains both the family and the local community.
Diverse Agriculture: Crop rotation, companion planting, and small-scale livestock husbandry typify homesteading. This approach promotes soil health, biodiversity, and resiliency against pests and diseases.
Engagement and Exchange: Homesteading fosters a strong sense of community connection. Local farmers' markets, shared resources, and collaborative workshops underscore the interdependence within the neighbourhood.
Off-grid living in the USA evokes the spirit of pioneering self-reliance, enabling individuals and families to seek seclusion and resilience:
Remote Abodes: Off-gridders often venture to remote locales, seeking to disconnect from the hustle and bustle of urban life and fully immerse themselves in nature.
Complete Self-Sufficiency: Off-grid enthusiasts prioritise complete autonomy by generating their own power through renewable energy sources like solar panels, wind turbines, and hydropower.
Minimal Ecological Footprint: Living off-grid inspires individuals to minimise their impact on the environment, often through energy-efficient construction, water harvesting, and mindful resource consumption.
The decision between homesteading vs off-grid living rests upon personal values, aspirations, and the scope of self-sufficiency one seeks to achieve.
Ultimately, both homesteading and off-grid living carve a unique narrative that redefines the American dream in the context of sustainability and self-sufficiency. Whether you're sowing seeds of community engagement or forging trails into the heart of solitude, the USA's expansive landscapes offer a canvas for crafting a life that aligns with your values and the spirit of the land you call home.
Homesteading vs Off-Grid Living in Australia and New Zealand
In the Southern Hemisphere, where the sun kisses the landscapes of Australia and New Zealand, the choices of homesteading vs off-grid living paint vibrant portraits of self-sufficiency, sustainability, and a deep connection to the earth.
Let's embark on a journey through these antipodean lands as we uncover the nuanced contrasts between these two captivating lifestyles, each embracing the unique spirit of this sun-soaked region.
Homesteading: A Haven of Self-Sufficiency and Biodiversity
Homesteading in Australia and New Zealand epitomises a celebration of diversity, resilience, and shared knowledge:
Varied Landscapes: Homesteaders adapt to diverse climates, from arid outback to temperate coasts, fostering an understanding of the land's unique demands.
Sustainable Stewardship: Embracing permaculture principles, homesteaders transform small plots into ecosystems that flourish with a variety of crops and livestock.
Community and Exchange: Homesteading culture thrives through farmers' markets, community workshops, and seed-sharing initiatives, underlining the importance of local engagement.
Off-Grid Living: Tapping into the Essence of Isolation and Independence
Off-grid living in Australia and New Zealand captures the essence of freedom, solitude, and a deep commitment to eco-consciousness:
Remote Retreats: Off-gridders seek secluded pockets, from the vastness of the Outback to the tranquility of island living, immersing themselves in the untamed beauty of nature.
Self-Powered Futures: Through solar panels, wind turbines, and innovative water-capturing methods, off-gridders harvest their own energy and water, creating a closed loop of sustainability.
Wilderness Wisdom: The pursuit of off-grid living often goes hand in hand with developing bushcraft skills, as individuals learn to navigate the wilderness, identify edible plants, and live in harmony with the land.
Choosing Your Path: A Journey as Unique as the Land
The decision between homesteading vs off-grid living hinges on personal values, aspirations, and the essence of the land you tread:
Homesteading: If the notion of cultivating a harmonious ecosystem, contributing to local markets, and nurturing community spirit speaks to you, homesteading may resonate.
Off-Grid Living: If the allure of total independence, self-sufficiency, and the raw beauty of untamed landscapes beckons, the path of off-grid living could be your compass.
In the Southern Hemisphere, where kangaroos are bound and the mighty Pacific beckons, homesteading and off-grid living are testaments to a life deeply entwined with the natural world.Whether you're sowing seeds of community or forging a solitary path under the Southern Cross, Australia and New Zealand's diverse terrains offer a canvas for crafting a life that aligns with your values and the pulse of the land beneath your feet.
If you want to give off-grid living a go in a small way, this 120W Eco-Worthy Solar kit is great for van-lifers and boaters alike. It pulls in 500Wh daily with just 4 hours of sun, perfect for charging a 12V 50Ah battery. The monocrystalline panel is tough, and built to last outdoors. It's got a solid 30A charge controller with safety features and works with different battery types. The kit includes a panel, controller, cables, and brackets. They've even got a 1-year warranty and tech support.
Navigating Choices: Homesteading vs Off-Grid Living
As the sun sets over diverse horizons – from the rolling landscapes of the UK to the open spaces of Australia, New Zealand, and the USA – it illuminates crossroads of choices for those stepping onto the path of sustainable living. Regardless of the continent, homesteading vs off-grid living offer divergent yet interwoven avenues to self-sufficiency.
Let's delve into pragmatic advice that can guide you through the journey of decision-making, ensuring your chosen path resonates with your values, dreams, and the immense potential of the landscapes you call home.
Defining Your Vision: A Holistic Approach
Before embarking on either journey, take a moment to crystalise your vision for sustainable living. Consider:
Homesteading: If you're drawn to nurturing livestock, cultivating a diverse array of crops, and fostering a sense of community within a rural or suburban environment, homesteading might be your calling. Assess the scale of land you can manage and your commitment to both flora and fauna.
Off-Grid Living: If your vision entails absolute self-sufficiency, embracing solitude in remote corners, and crafting a self-contained ecosystem, off-grid living could be your compass. Gauge your capability to handle the intricacies of renewable energy systems, water management, and the art of wilderness survival.
Assessing Resources: Balancing Investment and Returns
Both homesteading vs off-grid living demand investments of time, effort, and resources. Delve into:
Homesteading: Evaluate the feasibility of local markets for your produce and wares. Explore the potential of community support, as sharing wisdom and resources can significantly enrich your journey.
Off-Grid Living: Consider the financial commitment required for renewable energy systems, water infrastructure, and sustainable construction practises. Counterbalance this with the long-term savings and the priceless independence gained.
Legalities and Regulations: Navigating the Homesteading vs Off-grid Maze
Familiarise yourself with local laws and regulations that could influence your chosen lifestyle:
Homesteading: Grasp agricultural zoning laws and any livestock or land use restrictions. Stay aware of allotment regulations and community guidelines that shape your journey.
Off-Grid Living: Explore the legality of off-grid living, as some regions might impose limitations on disconnecting from conventional utilities. Furthermore, building codes could dictate the types of eco-conscious structures you can create.
Skill Set Development: Embracing Growth
Both paths necessitate a skill set for success:
Homesteading: Focus on horticulture, animal care, food preservation, and active participation within your community. Engage with local workshops and gardening clubs to foster connections.
Off-Grid Living: Educate yourself about renewable energy systems, water purification, wilderness survival, and the principles of sustainable construction. Enrol in courses or seek mentors to cultivate these invaluable competencies.
Whether you're tending the soil, harnessing the wind, or navigating the spectrum between, remember that your expedition towards sustainable living is as distinct as the terrain you tread.
By aligning your values, resources, and aspirations with the route that resonates, you're poised to shape a life that nurtures you and leaves an indelible positive mark on the world you inhabit.
Homesteading Vs Off-Grid Living: Final Thoughts
Navigating the crossroads of homesteading vs off-grid living is a voyage laden with possibilities and potential. As you embark on this journey, envision the impact of your choices on the landscape, your family, and the global community. Reflect on the knowledge gained from this exploration and the insights shared within these pages.
From my own experience as an aspiring homesteader in the UK, I understand the transformative power of embracing the land, cultivating sustenance, and living in harmony with nature. The path of sustainable living is not just a choice but a commitment to leaving a positive legacy for generations to come.
As you tread this path, remember that homesteading and off-grid living are not just labels; they're invitations to be mindful stewards of the Earth, to nurture the soil beneath our feet, and to forge connections with the people and creatures that share our habitat.
Whether you're drawn to the community spirit of homesteading, the independence of off-grid living, or a fusion of both, you contribute to a movement that celebrates authenticity, sustainability, and conscious living.
Let your journey be a testament to the transformative power of choosing a life that aligns with your values and the natural world's rhythms.
As you cultivate your garden, raise your animals, and harness the elements for your needs, remember that you're not just forging a self-sufficient existence—you're fostering a deeper connection with the land and a profound sense of purpose. May the light of possibility shine on your path, and may the effects of your decisions ripple outward to motivate others to start their own sustainable living journeys.
With the sun setting on this exploration, I invite you to step forward with intention, armed with knowledge and a heart open to the wonders of a life entwined with the Earth. As you navigate the choices before you, embrace a growth mindset, embrace your own creativity, and embrace the boundless potential of a future that's as abundant as the land you nurture.
Back To The Good Life is a participant in the Amazon Services LLC Associates Program, an affiliate advertising program designed to provide a means for sites to earn advertising fees by advertising and linking to Amazon.com. We also participate in other affiliate programs which compensate us for referring traffic.