Sparkling Green: Crafting DIY Natural Cleaning Products for a Sustainable Home
Just a heads up, this post contains some affiliate links. That means that we earn a small commission if you buy the product at no extra cost to you. That allows us to continue to research and share interesting articles with you. :)
We all know that living a wholesome, eco-friendly life is essential for our planet and our health, but did you know that you can take your green game to the next level by making your own DIY natural cleaning products?
That's right! We'll teach you how to create homemade cleaning solutions that are not only kind to the environment but also gentle on your wallet.
I've always been passionate about protecting the planet, but I struggled to find practical ways to make a difference in my daily life. That is until I discovered the power of DIY natural cleaning products. Not only are they kinder to the environment than traditional cleaners, but they also help to reduce waste and save money.
Making my own DIY natural cleaning solutions has become a fun and fulfilling activity that allows me to contribute to a greener, cleaner world in a small but meaningful way. By using natural ingredients and reducing my reliance on plastic packaging, I feel like I'm making a positive impact on the planet every time I clean my home.
So let's dive in and discover how to make our homes sparkle with the power of nature!
The Magic of Vinegar
Vinegar, particularly white vinegar, is a versatile and effective natural DIY natural cleaning agent that has been used for centuries. Its acidic nature makes it perfect for tackling a wide variety of cleaning tasks around the house.
Here's how you can harness the power of vinegar to create an all-purpose cleaner that's both eco-friendly and efficient.
Crafting Your DIY Vinegar All-Purpose Cleaner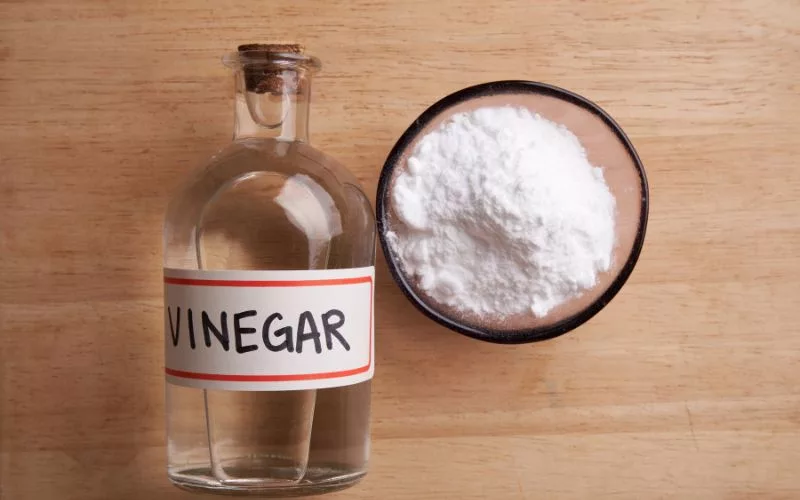 To make your own vinegar-based all-purpose DIY natural cleaner, follow these simple steps:
Gather your supplies: You'll need:

White vinegar
Water
A spray bottle
Your favourite essential oil (for a pleasant scent)

Mix the ingredients: Combine equal parts white vinegar and water in the spray bottle. This 1:1 ratio provides a balanced solution that's effective yet gentle on most surfaces.
Add fragrance: Add a few drops of your favourite essential oil to the vinegar and water mixture. This not only adds a lovely scent but can also boost the cleaning power of your solution. For example, tea tree oil has antibacterial properties, while lemon oil is great for degreasing.
Shake and use: Give the bottle a good shake to mix everything well, and your DIY vinegar all-purpose cleaner is ready to go!
This versatile cleaner can be used on a variety of surfaces such as countertops, glass surfaces, stainless steel appliances, and more. Just be sure to avoid using it on delicate materials like marble, as the acidity of vinegar can cause damage.
Tips for Using Your Vinegar All-Purpose Cleaner
For stubborn stains or grime, let the vinegar solution sit on the surface for a few minutes before wiping it away. This allows the vinegar to break down the dirt more effectively.
If you're unsure whether the vinegar cleaner is suitable for a particular surface, test it on a small, inconspicuous area first.
To further reduce waste and live a more sustainable lifestyle, consider using reusable cloths, such as microfiber or bamboo, for wiping down surfaces.
Conquering Hard Water Stains: DIY Descaling Solution
Hard water stains can be a persistent nuisance, leaving unsightly marks on your fixtures and appliances. But worry not! With the power of white vinegar, you can create a simple yet effective descaling solution to banish those stubborn stains.
Preparing Your DIY Descaling Solution
To make your own descaling solution at home, follow these easy steps:
Gather your supplies: You'll need:

White vinegar
Water
A spray bottle
A soft cloth or sponge for scrubbing

Mix the ingredients: Combine equal parts white vinegar and water in the spray bottle. This 1:1 ratio offers a potent solution that can break down the mineral deposits responsible for hard water stains.
Apply to the affected area: Spray the vinegar solution generously onto the stained surface. Be sure to cover all areas affected by hard water stains.
Let it sit: Allow the solution to sit for at least 15-30 minutes, giving the vinegar time to dissolve the mineral deposits. For more stubborn stains, you can let the solution sit for a few hours or even overnight.
Scrub and rinse: Use a soft cloth or sponge to gently scrub away the loosened stains. Rinse the area thoroughly with water to remove any remaining vinegar residue.
Dry and admire: Wipe the surface dry with a clean cloth and admire your now stain-free fixtures and appliances!
Additional Tips for Tackling Hard Water Stains
For especially stubborn stains or large deposits, you can try heating the vinegar solution before applying it. Warm vinegar is more effective at dissolving mineral deposits.
If you're concerned about potential damage to delicate surfaces, dilute the vinegar solution further by using a 1:2 ratio of vinegar to water.
To prevent future hard water stains, consider installing a water softening system or using a vinegar-based cleaner regularly to keep mineral deposits at bay.
Unleashing the Power of Baking Soda
Baking soda, also known as sodium bicarbonate, is a versatile and eco-friendly cleaning agent that can be used for various purposes around the house. From deodorising carpets to creating your own soft scrub, baking soda has got you covered.
Let's explore how you can harness its cleaning potential.
Breathe New Life into Your Carpets
Revitalise your carpets and eliminate unpleasant odours with this simple baking soda method: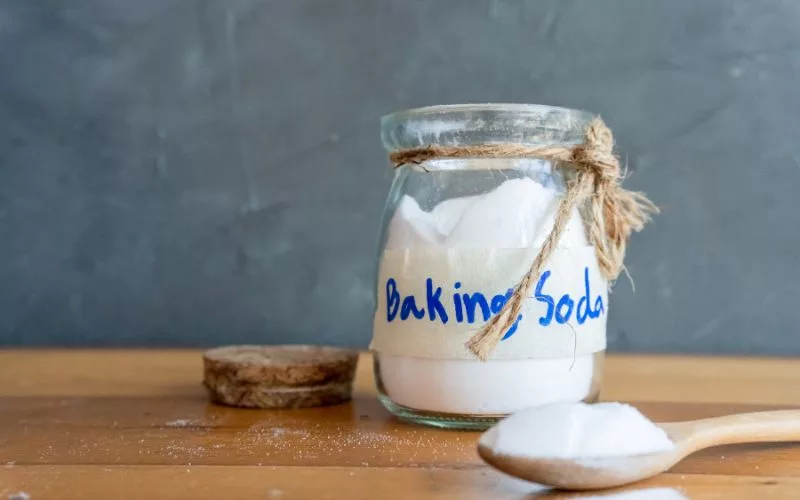 Prep the area: Vacuum the carpet to remove any loose dirt and debris.
Sprinkle with baking soda: Generously sprinkle baking soda over the entire carpet surface. Make sure to cover any areas with strong odours or visible stains.
Let it sit: Allow the baking soda to sit on the carpet for at least 30 minutes. For more powerful deodorising action, you can leave it overnight.
Vacuum again: Once the baking soda has absorbed the odours and loosened any stains, vacuum the carpet thoroughly to remove the baking soda.
Enjoy fresh carpets: Your carpets will be left smelling fresh and looking clean, without the need for harsh chemicals.
Whip Up Your Own Homemade Soft Scrub
Create a gentle yet effective soft scrub for surfaces like sinks, bathtubs, and tiles with this easy recipe:
Gather ingredients: You'll need:

½ cup of baking soda
½ cup of liquid castile soap
10 drops of your favourite essential oil.

Mix it up: Combine the baking soda, liquid castile soap, and essential oil in a bowl. Mix well until a smooth, paste-like consistency is achieved.
Store and use: Transfer the mixture to a jar with a tight-fitting lid for storage. When you're ready to use the soft scrub, simply scoop out a small amount with a cloth or sponge, apply it to the surface, and gently scrub in a circular motion.
Rinse and dry: After scrubbing, rinse the area with water to remove any remaining soft scrub residue. Wipe dry with a clean cloth for a sparkling finish.
Citrusy Freshness: Harnessing the Power of Citrus Peels
Citrus fruits like oranges, lemons, and grapefruits are not only delicious but also have natural cleaning properties. Their peels contain essential oils and acids that can help cut through grease, grime, and odours.
Let's discover some creative ways to use citrus peels for a fresh and clean home.
DIY Citrus Peel Cleaner
Transform your citrus peels into a powerful, eco-friendly cleaner with this simple recipe:
Collect citrus peels: Save the peels from oranges, lemons, or grapefruits after you've consumed the fruit. You can store them in the freezer until you have enough for the cleaner.
Soak in vinegar: Place the citrus peels in a clean jar and cover them with white vinegar. Seal the jar with a tight-fitting lid.
Infuse for two weeks: Allow the citrus peels to soak in the vinegar for at least two weeks. This will help the vinegar absorb the essential oils and cleaning properties from the peels.
Strain and dilute: After two weeks, strain the liquid into a spray bottle, discarding the peels. Dilute the citrus-infused vinegar with an equal amount of water.
Clean and enjoy: Use your DIY citrus peel cleaner on various surfaces like countertops, stovetops, and sinks. Its grease-cutting power and refreshing scent will leave your home sparkling clean.
The Dark Side of Traditional Cleaning Products
While store-bought cleaning products may seem convenient and effective, they often come with a hidden cost. Many of these products contain harmful chemicals and pose a threat to our health, the environment, and even our ethical values.
Let's delve into the reasons why switching to DIY natural cleaning products can make a significant difference.
Harmful Chemicals and Health Risks
A plethora of store-bought cleaning products contain harsh chemicals that can have detrimental effects on humans, pets, and the environment. Some of the risks associated with these chemicals include:
Skin, eye, and respiratory irritation: Direct contact or inhalation of these chemicals may cause immediate discomfort or irritation.
Allergies: Chemicals found in traditional cleaning products can trigger allergic reactions in sensitive individuals.
Long-term health issues: Prolonged exposure to certain chemicals may contribute to hormonal imbalances, neurological disorders, and even cancer.
Switching to DIY natural cleaning products allows you to significantly reduce your exposure to these harmful substances, promoting a healthier and safer living environment.
Environmental Impact
Traditional cleaning products also have a detrimental impact on the environment. Here's how:
Water contamination: When washed down the drain, chemicals from cleaning products can contaminate water sources and harm aquatic ecosystems.
Pollution and waste: The production, transportation, and disposal of plastic packaging associated with store-bought cleaners contribute to pollution, waste, and the depletion of natural resources.
Embracing DIY natural cleaning products enables you to minimise your ecological footprint and protect our precious planet for future generations.
Supporting Ethical and Sustainable Brands
Creating your own DIY natural cleaning products provides an opportunity to choose ingredients from ethical and sustainable sources. By consciously selecting eco-friendly brands that prioritise organic, fair-trade, and cruelty-free products, you align with your Good Lifer values and support a greener, kinder world. Some tips for finding ethical and sustainable brands include:
Research the brand's mission and values: Look for companies that prioritise sustainability, fair labour practices, and animal welfare.
Check for certifications: Look for labels such as USDA Organic, Fair Trade Certified, and Leaping Bunny to ensure the products meet specific ethical and environmental standards.
Read reviews and ask for recommendations: Online reviews and word-of-mouth recommendations from fellow Good Lifers can help you discover trusted ethical brands.
Conclusion
Embracing a green clean lifestyle is not only easy, but it's also an essential step towards a healthier, more sustainable world. By making your own DIY natural cleaning products, you can avoid the harmful chemicals and environmental impacts associated with traditional cleaners, while supporting ethical and sustainable brands.
So why not give it a try? You'll not only contribute to a healthier environment but also create a safer and more natural living space for you and your loved ones.
Happy cleaning!
FAQs:
Can I use these DIY natural cleaning products on any surface?
Most DIY natural cleaning products are safe for a variety of surfaces, but it's always best to test a small, inconspicuous area first to ensure compatibility.
Are these homemade cleaning solutions safe for pets and kids?
Yes! One of the benefits of DIY natural cleaning products is that they're typically non-toxic and safer for pets and children compared to store-bought chemical cleaners. However, always keep your cleaning products out of reach of children and pets to avoid ingestion.
How long do DIY natural cleaning products last?
The shelf life of homemade cleaning products can vary depending on the ingredients used. Most DIY cleaners should last for a few months, but always make sure to store them in a cool, dry place and check for any signs of spoilage or changes in effectiveness.
Can I mix different DIY natural cleaning products?
It's generally best to avoid mixing different homemade cleaning products, as some ingredients might not react well together. Stick to the recommended recipes and usage guidelines for the best results.
Back To The Good Life is a participant in the Amazon Services LLC Associates Program, an affiliate advertising program designed to provide a means for sites to earn advertising fees by advertising and linking to Amazon.com. We also participate in other affiliate programs which compensate us for referring traffic.