Garden Harmony: Perfect Plant Partnerships Through Companion Planting
Just a heads up, this post contains some affiliate links. That means that we earn a small commission if you buy the product at no extra cost to you. That allows us to continue to research and share interesting articles with you. :)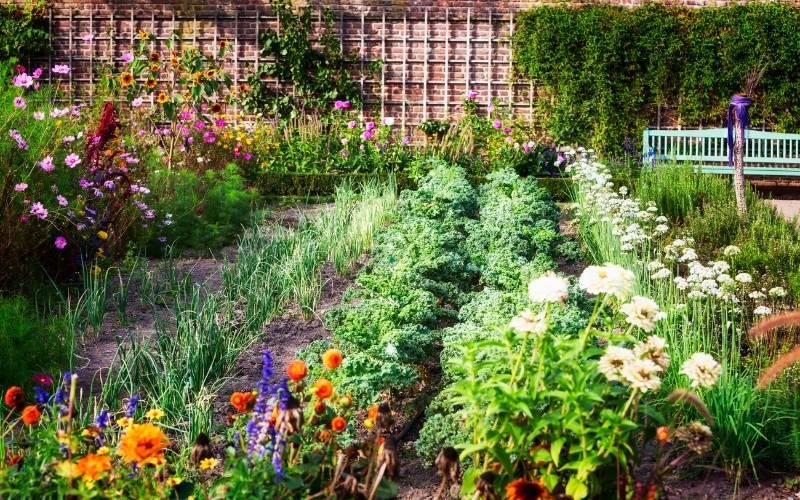 Hey there, Good Lifers! Have you ever wondered how you can take your garden or allotment to the next level while staying true to your eco-friendly and self-sufficient values? Well, companion planting might just be the secret ingredient you're missing.
In this article, we'll dive deep into the world of companion planting, its definition, and the benefits it brings to your green space.
So, let's dig in, shall we?
Companion Planting: A Simple Definition
Companion planting is the practice of growing different plants close together to enhance their growth, productivity, and pest control. By planting certain plants together, you create a harmonious ecosystem that benefits from the natural relationships between species.
A Brief History: Ancient Roots
This practice dates back thousands of years, with examples found in ancient civilizations, such as the Native Americans' "Three Sisters" planting method, which combines corn, beans, and squash.
How Does Companion Planting Work?
Plants have an array of natural mechanisms to help them survive and thrive. When grown together, certain plants can support each other by providing nutrients, attracting beneficial insects, and repelling pests. This synergy works wonders for your garden and contributes to a healthier, more sustainable environment.
The Benefits of Companion Planting
There are so many benefits when it comes to companion planting, let's take a look at just a few of them below:
Natural Pest Control
One of the major advantages of companion planting is its ability to keep pests at bay without the use of harmful chemicals.
By strategically placing plants that repel insects near those that attract them, you can reduce the need for pesticides and protect your garden's delicate balance.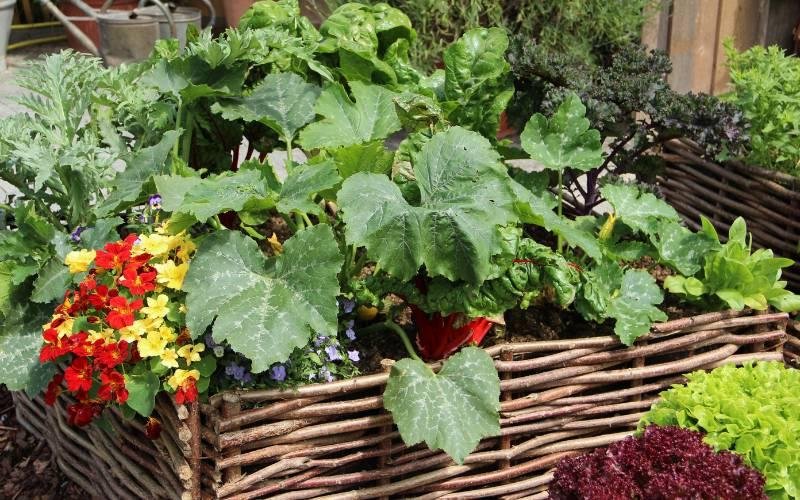 Companion planting harnesses the power of plants that naturally repel pests. These plants emit chemical compounds that deter harmful insects, reducing the need for toxic pesticides.
For example, marigolds produce a substance that repels nematodes, while garlic wards off aphids and spider mites.
In addition to deterring pests, companion planting also attracts beneficial insects that prey on harmful garden pests. These "good bugs" help keep pest populations in check, promoting a balanced ecosystem.
For instance, planting dill or fennel near your crops can attract ladybugs, which feast on aphids and other pests.
Improved Soil Health
Companion planting can also benefit the soil in your garden. Some plants, like legumes, fix nitrogen in the soil, making it more fertile for other plants. Others, like deep-rooted plants, can help break up compacted soil, allowing for better water and nutrient absorption.
Certain plants, particularly legumes such as peas, beans, and clover, have the ability to fix nitrogen from the atmosphere and convert it into a form that can be utilized by other plants.
This process enriches the soil and benefits neighbouring plants, which can access the increased nitrogen levels for their growth and development.
Companion planting with plants that have different root systems can help each other access nutrients from various layers in the soil.
For example, deep-rooted plants like tomatoes can reach nutrients in lower soil levels, while shallow-rooted plants like lettuce access nutrients near the surface.
This complementary relationship allows plants to share resources, improving overall soil health and plant growth.
Increased Yield
When plants work together, they often produce more abundant harvests. Companion planting can increase the yield of your garden by providing support for climbing plants, optimizing space, and fostering a more resilient ecosystem.
Enhanced Pollination
Companion planting can improve pollination rates by attracting a variety of pollinators, such as bees and butterflies, to the garden.
With more effective pollination, plants can produce more fruit and seeds, increasing the overall yield of the garden.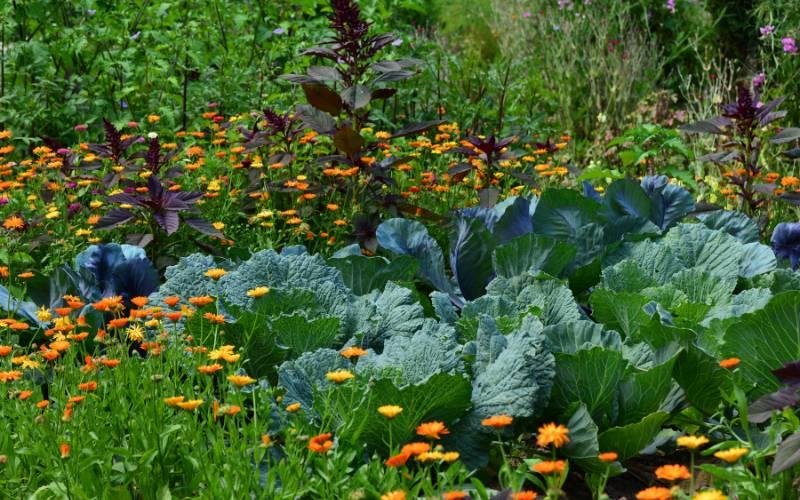 Companion planting also brings a wealth of colour to the garden, and colour, as we found out in this post, can attract all sorts of different pollinators.
Space Optimisation
Companion planting provides natural support structures for climbing plants. For example, pole beans can grow up corn stalks, while peas may use sunflowers or trellises with cucumbers as support.
This focus on space optimises garden space by combining plants with different growth habits and needs. For instance, fast-growing, shallow-rooted plants can be planted alongside slower-growing, deep-rooted plants.
This ensures that the plants do not compete for the same resources, enabling them to thrive together and produce a more abundant harvest.
Vertical gardening is a key aspect of space optimisation in companion planting. By pairing climbing plants, such as beans, peas, or cucumbers, with taller plants like corn, sunflowers, or trellises, you can maximize the use of limited garden space.
This approach allows you to grow more plants within a smaller area, increasing overall productivity and yield.
Shade Management
Shade management is another way companion planting helps optimize space in your garden. Some plants, like tomatoes, peppers, or sunflowers, provide shade for more heat-sensitive plants such as lettuce, spinach, or arugula.
By growing these plants together, you create microclimates that protect the more delicate plants from the scorching sun, allowing them to grow better in hot climates.
This strategic use of shade also helps conserve water by reducing evaporation, contributing to a more efficient and sustainable garden.
Increased Biodiversity
A diverse garden is essential for creating and maintaining a healthy ecosystem. By incorporating a wide range of plant species through companion planting, you support a variety of organisms, including insects, birds, and microorganisms in the soil.
This increased biodiversity leads to a more balanced and resilient ecosystem that can better withstand environmental stressors, such as pests and diseases.
Furthermore, a diverse garden encourages natural pest control by attracting beneficial insects that prey on harmful pests. It also promotes effective pollination by drawing various pollinators to your garden, which in turn enhances productivity and yield.
Ultimately, increased biodiversity contributes to the overall health and success of your garden, while also benefiting the environment on a broader scale.
Enhanced Flavour
Believe it or not, companion planting can even affect the taste of your fruits and veggies. Some plants release chemicals that can enhance the flavour of their neighbours, making your homegrown produce even more delicious.
Popular Companion Planting Examples
For a full list of beneficial companion plants and plants that have a negative effect on their neighbours, check out our free online companion planting tool. For now, here's a quick rundown of the most popular: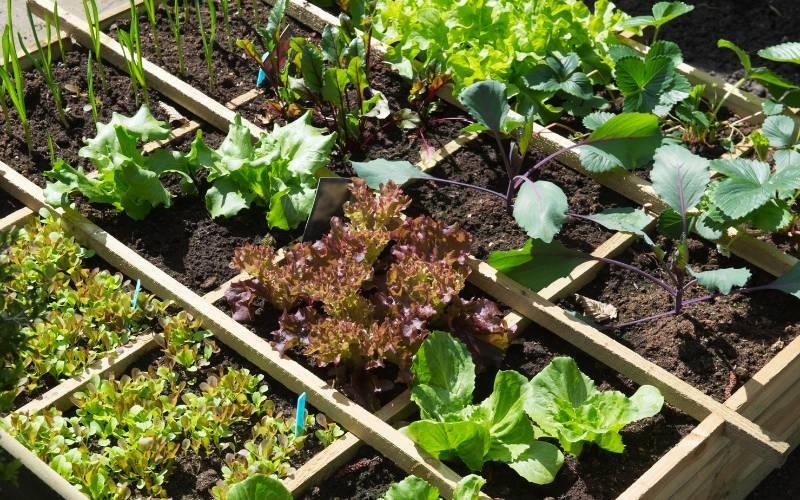 Tomatoes and Basil
Tomatoes and basil make a dynamic duo in both the garden and the kitchen. Basil is known to repel various pests that target tomato plants, such as whiteflies, hornworms, and aphids.
This natural pest control helps keep your tomato plants healthy and strong.
Additionally, growing basil close to your tomatoes is believed to enhance their flavor, making this combination a favorite among gardeners and foodies alike.
Carrots and Onions
Carrots and onions are another great pairing for a thriving garden. Onions emit a strong scent that deters carrot flies, a common pest that damages carrot roots.
In turn, carrots help onions by loosening the soil, allowing onion bulbs to grow more easily. This symbiotic relationship benefits both plants, resulting in a more bountiful harvest.
Cucumbers and Nasturtiums
Cucumbers and nasturtiums make a colourful and practical combination in the garden. Nasturtiums, with their bright, vibrant flowers, repel cucumber beetles and aphids, two common pests that can wreak havoc on cucumber plants.
This protective effect allows cucumber plants to grow and produce without the threat of pesky insects.
Lettuce and Chives
Lettuce and chives are another perfect pairings for your garden. Chives deter aphids, which are common pests of lettuce, by releasing a strong scent that these insects find unappealing.
This natural form of pest control helps protect your lettuce plants from damage. Additionally, lettuce plants provide shade for chives, allowing them to thrive in cooler conditions, while chives can also enhance the flavour of lettuce leaves.
Together, they create a harmonious environment where both plants can flourish.
Peas and Spinach
Peas and spinach is an excellent companion planting combination for a nutrient-rich and efficient garden. Peas, being legumes, have the unique ability to fix nitrogen from the atmosphere and add it to the soil. This process enriches the soil and benefits spinach, which requires plenty of nitrogen for healthy growth.
Meanwhile, spinach acts as a living mulch, covering the ground around the peas and helping to conserve moisture.
This not only benefits both plants by maintaining consistent soil moisture but also suppresses weed growth, making your garden more manageable and productive.
These popular companion planting examples showcase the power of working with nature to create a thriving, healthy garden. By carefully selecting plant combinations that support and protect each other, you can enjoy higher yields, improved pest control, and a more sustainable gardening experience.
So, give these pairings a try and let your garden become an eco-friendly, abundant haven for both plants and Good Lifers alike.
Tips for Successful Companion Planting
Research Before Planting
Plant Compatibility
Before diving into companion planting, it's important to study the characteristics of different plants to determine which ones can benefit each other and which combinations should be avoided.
Understanding the specific needs, growth habits, and pest resistance of each plant will help you create the perfect partnerships in your garden.
Local Climate and Soil
When selecting companion plants, consider your region's climate and soil conditions.
Some plants thrive better in certain environments, and understanding these nuances will enable you to choose combinations that are well-suited to your specific garden setting.
Observe and Experiment
Trial and Error
Companion planting is not a one-size-fits-all approach. Experiment with different plant combinations to find what works best for your garden. Don't be afraid to try new pairings, as every garden is unique, and you might discover some unexpected, successful matches.
Keep Records
Document your observations and results to refine your companion planting strategy over time. Keeping records of plant pairings, planting dates, and harvest results will help you make informed decisions in future gardening seasons, leading to an increasingly successful garden.
Practice Crop Rotation
Soil Health
Rotate crops each year to prevent nutrient depletion and the buildup of pests and diseases.
Changing the location of your plants annually disrupts the life cycles of pests and reduces the spread of diseases that can impact your plants.
Crop rotation also helps maintain soil health by giving it a chance to recover and replenish nutrients between growing seasons.
Maintain Diversity
Introduce new plant varieties to maintain a diverse, healthy garden ecosystem. By regularly adding new plants to your garden, you encourage biodiversity and create a more balanced, resilient environment.
This not only benefits your garden's overall health but also contributes to the well-being of local ecosystems and wildlife.
By following these tips for successful companion planting, you can create a thriving, eco-friendly garden that promotes a Good Life philosophy.
Remember, the key to successful companion planting is research, observation, experimentation, and adaptation.
With time, patience, and a little bit of trial and error, you'll soon discover the perfect plant pairings that will make your garden flourish.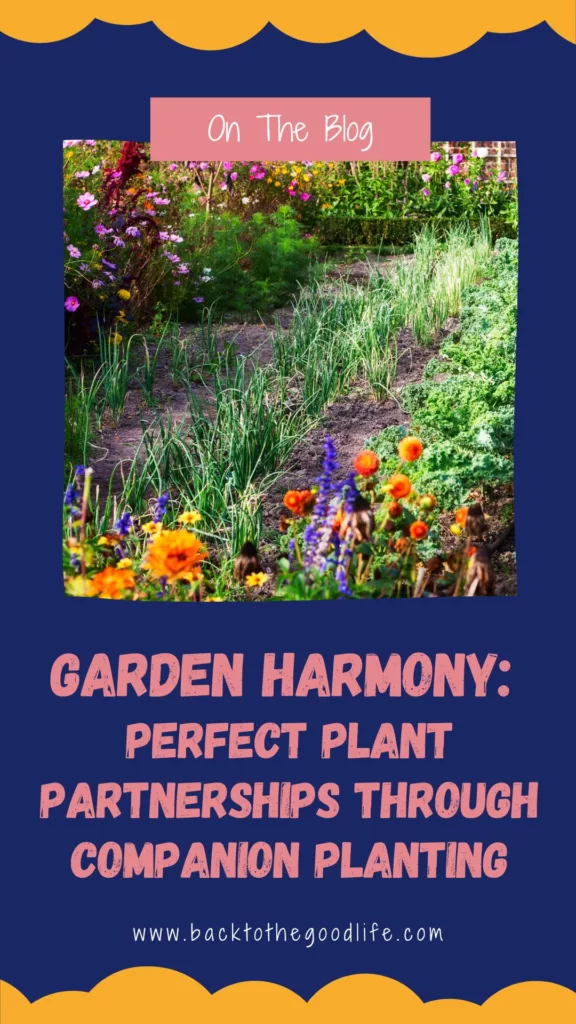 Final Thoughts
In conclusion, companion planting is a powerful and eco-friendly approach to gardening that not only increases yield and promotes biodiversity but also aligns with the Good Life philosophy.
By embracing the natural relationships between plants and utilizing their unique characteristics, you can create a thriving, sustainable garden that is both productive and harmonious.
So, don't hesitate to explore new plant combinations, experiment with different pairings, and learn from your observations to continually refine your companion planting strategy.
With time and dedication, you'll be well on your way to creating a flourishing garden that embodies the Good Life spirit and contributes to a healthier, more vibrant environment.
Happy gardening, Good Lifers!
Related Questions:
Q: Can companion planting help with pest control?
A: Yes, companion planting can significantly reduce the need for chemical pesticides by strategically placing plants that repel pests near those that are more susceptible.
In addition, companion planting can attract beneficial insects that prey on harmful pests, promoting a balanced garden ecosystem.
Q: How does companion planting improve soil health?
A: Companion planting can enhance soil health by promoting nutrient cycling and improving soil structure.
For example, legumes can fix nitrogen from the atmosphere, enriching the soil for neighboring plants, while plants with different root systems can access nutrients from various soil layers, benefiting one another.
Q: Can companion planting increase my garden's yield?
A: Yes, companion planting can lead to more abundant harvests by providing support for climbing plants, optimizing space, and fostering a resilient ecosystem.
Additionally, companion planting can improve pollination rates, resulting in more fruit and seeds, thus increasing your garden's overall yield.
Q: Are there any combinations I should avoid in companion planting?
A: Some plants can have negative effects on each other when grown in close proximity, so it's essential to research plant compatibility before pairing them in your garden.
For example, avoid planting tomatoes near potatoes, as they can attract the same pests and diseases, or keep dill away from carrots, as dill can inhibit carrot growth. Check out our free online companion planting tool for a useful list.
Back To The Good Life is a participant in the Amazon Services LLC Associates Program, an affiliate advertising program designed to provide a means for sites to earn advertising fees by advertising and linking to Amazon.com. We also participate in other affiliate programs which compensate us for referring traffic.