Say Goodbye to Paper Towels: 6 Sustainable Alternatives to Try
Just a heads up, this post contains some affiliate links. That means that we earn a small commission if you buy the product at no extra cost to you. That allows us to continue to research and share interesting articles with you. :)
Did you know that the average person uses approximately 100 pounds of paper towels annually, with the majority of them ending up in landfills?
When paper towels are made and thrown away, they have a big effect on the environment, from cutting down trees to using a lot of energy to letting methane gas out in landfills.
In this article, we will take a closer look at the problem with paper towels and explore sustainable alternatives that can be easily incorporated into our daily lives.
Our goal is to give people the information they need to make good decisions and reduce their environmental impact. We will discuss the options available, from reusable cloth towels and napkins to bidets, to compostable paper towels and more, and provide tips for making the switch.
By the end of this article, you will have the tools you need to reduce your paper towel usage and positively impact the environment.
The Problem with Paper Towels
The problem with paper towels shows up at every stage of their life, from getting the raw materials to throwing them away.
To make paper towels, a lot of trees are needed. Most of these trees come from forests, which means that forests are being cut down, and animals are losing their homes. Paper towels are also manufactured in a way that consumes energy and pollutes the air and environment. This contributes to global warming and air pollution.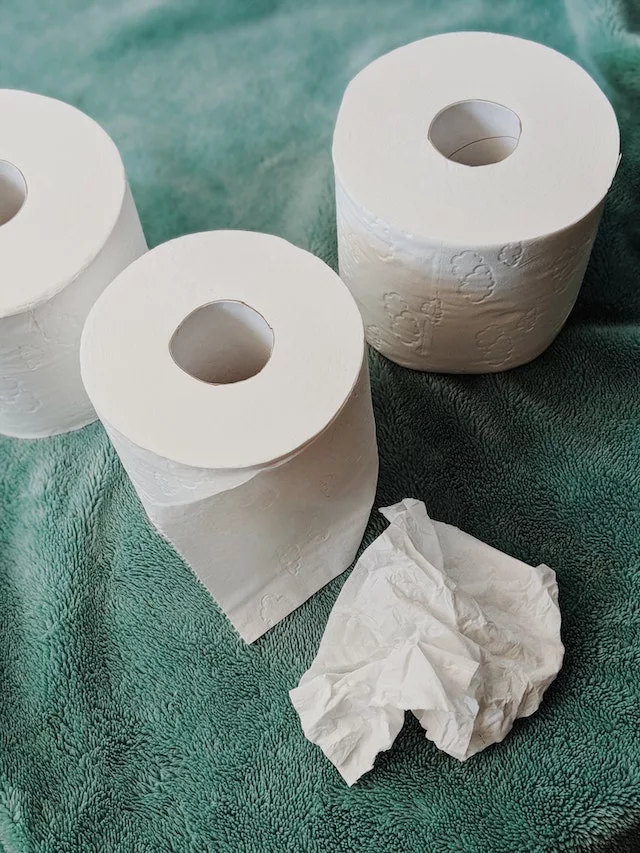 The manufacturing process produces waste from wood chips and other byproducts, which can pollute the soil and water.
Paper towels are often thrown away after just one use, which adds to the amount of trash in landfills and on the ground. This hurts the environment and makes the problem of plastic pollution in the world's oceans worse.
Paper towels that aren't thrown away properly can take years to break down in landfills and release methane, a powerful greenhouse gas.
From a sustainability point of view, the problem with paper towels is that they cause trees to be cut down, release pollutants into the environment, create waste, and add to the plastic pollution crisis.
Aren't Paper Towels Compostable?
Yes, paper towels can be composted, but how they are composted makes a difference. To turn organic matter into compost, you need the right amount of moisture, oxygen, and temperature, among other things. Most paper towels are made from pulp treated with chemicals to make them stronger and more absorbent. This can make composting take longer or not work at all.
Even if paper towels are composted correctly, they still add to the waste stream and use up resources when made and sold. It's also worth noting that not all communities have composting facilities or the infrastructure to compost paper towels properly. Many paper towels end up in landfills or the natural environment.
Due to these things, using fewer paper towels and switching to alternatives that can be used more than once is a more sustainable way to reduce waste and save resources.
How Big Is The Paper Towel Problem?
The exact numbers on paper towel use and waste vary from country to country and region. However, here are some general estimates:
The average person in the US uses about four rolls of paper towels per month. This means that each person uses more than 50 pounds of paper towels annually.
Waste: Paper towels are the third most common thing in landfills, after food waste and plastics. It is thought that over 3000 tonnes of paper towels are thrown away every year, and that's just in the United States.
Trees: A huge number of trees are used to make paper towels. It takes on average 17 trees to make one tonne of paper towels.
Water: A lot of water is used to make paper towels. For that same 1 tonne of paper towels, it takes 20,000 gallons (approximately 75,700 L) of water.
The statistics for paper towel usage and waste in the UK are similar to those in the US.
These numbers show how much paper towels hurt the environment and how important it is to use fewer paper towels and promote alternatives that are better for the environment.
The Impact Of Paper Towel Disposal
Paper towels have become a staple of almost every household, used to clean surfaces and dry hands. However, producing and disposing of paper towels has led to serious environmental concerns.
The harvesting of trees for paper towel production is one of the world's most significant sources of deforestation, leading to soil erosion and loss of wildlife habitats.
Additionally, bleaching chemicals used in some paper towel production processes can be toxic to aquatic life when they enter waterways due to improper waste management practices. The large-scale use of these products also leads to an increase in the solid waste that is difficult to break down naturally; many landfills fill up rapidly with disposable paper towels due largely in part to their single-use nature.
Sustainable Alternatives to Paper Towels
It's no secret that people are becoming more aware of the environment and it's few resources.
In response to this growing awareness, more people are looking for sustainable alternatives to everyday items so they can leave less of a mark on the environment. Paper towels are one such item that can easily be replaced with a more sustainable option.
Here are a few sustainable alternatives to paper towels, and explain why these alternatives are better for the environment.
1. Reusable Cloth Towels and Napkins
Reusable cloth towels and napkins are a great way to reduce your environmental impact and save money. With the range of fabrics, sizes, designs and colors available, it's easy to find reusable cloth options that suit your lifestyle. Understanding the differences between types of cloth materials can help you make an informed decision when purchasing reusable towels or napkins.
The most popular option for both towels and napkins is cotton. Cotton is durable, soft on skin, and easy to clean — making it ideal for any family kitchen. For those looking for a more luxurious option without compromising on quality, there are linen-cotton blend options available too.
We love these zero-waste "unpaper" towels. They are easy to grab and use in the kitchen, and they fit on a paper towel roll that you probably already have in your kitchen. Check them out at this link.
Linen-cotton blends provide a higher end feel while still being machine washable. Alternatively, bamboo towels offer an environmentally friendly choice with excellent absorbency although they can be slightly more expensive than other fabric combinations.
2. Hand dryers
When it comes to hand dryers, there's a lot of debate around their overall energy efficiency and cost. Many people consider traditional paper towels the more affordable, economical option, while others point out the potential for bacteria growth with paper towels. But what do you need to know when considering which is right for your space?
First of all, electric hand dryers are much better for the environment than paper towel dispensers. They use up to 80% less energy than traditional paper towels, and even though they might seem expensive at first, they can end up being much cheaper than their disposable counterparts in the long run.
In addition to saving on costs in terms of electricity and reducing waste from disposables, some electric hand dryers also have advanced features such as motion sensors that help keep them from running unnecessarily.
4. Compostable Paper Towels
Compostable paper towels offer an environmentally friendly alternative to regular paper towels that can be broken down in compost bins and used as fertilizer for gardens. They come in various sizes, materials, and colours to suit any household or business needs.
Most compostable paper towels are made from either bamboo or sugarcane pulp. Both materials are biodegradable, meaning they will break down over time without releasing harmful chemicals into the environment. Because of how they are made, these alternatives tend to be more expensive than regular paper towels.
However, most brands provide discounts when you purchase subscription services which helps reduce costs significantly over time.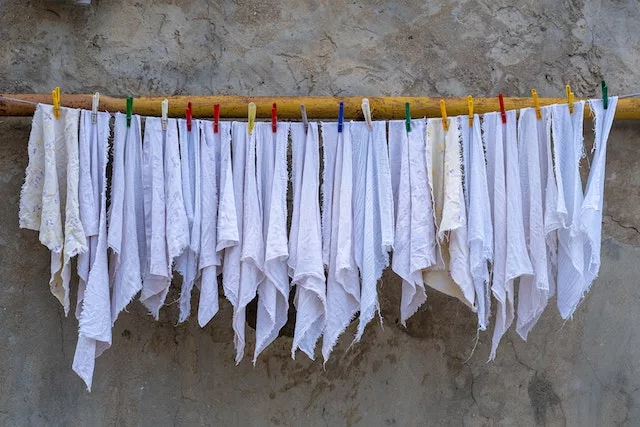 5. Rags or Dish Towels
Rags or dish towels are made from cotton fabric and are highly durable, making them a long-term choice compared to paper towels. They last longer than paper towels since they can be washed after each use instead of thrown away. While they tend to cost more upfront than paper towels, the overall cost is typically lower since they don't need to be replaced as often.
When it comes to getting the job done in the kitchen, there are a few basic tools that you'll need: rags or dish towels. They can be used to dry dishes and clean messes, but how do you make them?
A simple rag can be made from any scrap fabric; we have plenty of old tea towels, old bath towels, and fabric scraps from all over. Niki's favourite rags in the kitchen are squares of old bath towels cut up with denim from an old pair of jeans on one side. These are useful as rags, surface protectors, and even pot holders for hot pots from the stove.
Cotton terrycloth towels are an excellent option for absorbing liquid and drying dishes. They come in many sizes and colours, making it simple to find one that fits your needs perfectly.
Plus, they're highly absorbent, machine washable and reusable, so you can use them repeatedly.
6. Natural Sponges and Loofahs
Natural sponges and loofahs are made from materials like cellulose, loofah, or sea grass and are biodegradable and compostable. Unlike paper towels, they are also reusable and can last for several months. This not only helps to reduce waste but also saves money in the long run.
In addition to being environmentally friendly, natural sponges and loofahs also offer a more effective and hygienic cleaning solution. They are naturally absorbent, soft on skin, and have gentle scrubbing properties that can remove dirt and grime effectively.
You can support the move towards a greener planet by purchasing natural sponges for your home. Check out EcoMates for a wide selection of high-quality natural sponges perfect for cleaning in a much greener way. Fans of this blog can use code BackToTheGoodLife at checkout for an extra 10% off!
Implementing A Change At Home
Transitioning to more sustainable alternatives may be intimidating, but it does not have to be. Here are some pointers to get you started:
Begin small: Begin by replacing throwaway products with reusable alternatives in high-traffic areas such as the kitchen or bathroom.
Conduct your research: Spend time researching sustainable alternatives and selecting ones that fit your lifestyle and budget.
Make a strategy: Set a date and stick to it for when you want to make the changeover.
Inform yourself: Understanding sustainable options' environmental and financial advantages can keep you motivated and simplify the transition.
Including Sustainable Options in Your Daily Routine
Here are some suggestions for adding environmentally friendly solutions into your daily routine:
Back To The Good Life is a participant in the Amazon Services LLC Associates Program, an affiliate advertising program designed to provide a means for sites to earn advertising fees by advertising and linking to Amazon.com. We also participate in other affiliate programs which compensate us for referring traffic.