Garden 2.0: Embracing Gardening With AI for a Blooming Future
Just a heads up, this post contains some affiliate links. That means that we earn a small commission if you buy the product at no extra cost to you. That allows us to continue to research and share interesting articles with you. :)
Gardening, for many, is a sacred practice. It's a dance between humans and nature, a testament to our ability to nurture and create. Still, as we move further into the 21st century, even this age-old practice is evolving, embracing the digital age. Enter the world of AI and gardening – two seemingly contrasting domains that, when combined, can create something truly magical.
Now, I must confess, I've always been a bit of a tech enthusiast. At work, I've found myself relying heavily on tools like ChatGPT and other AI (Artificial Intelligence) platforms to streamline tasks and boost productivity. The efficiency and precision these tools offer are nothing short of remarkable.
One day, as I was tending to my allotment, a thought struck me: "What if I could harness the power of AI to enhance my gardening experience?".
The idea of blending my love for technology with my passion for sustainable living and gardening was too enticing to resist. And so began my journey into the world of gardening with AI, a venture to bring the best of both worlds to my homestead garden.
The Rise of AI in Modern Gardening
Historically, gardening was a practice passed down through generations, with secrets whispered from one green thumb to another, but as with many traditions, the digital age has left its mark.
Today, we're not just relying on the Farmer's Almanac or our grandparents' wisdom. Modern gardeners are turning to technology to help them navigate the complexities of soil health, weather patterns, and plant compatibility.
The push towards sustainable living and self-sufficiency has only accelerated this trend. As we strive for a more eco-friendly existence, the precision and adaptability of AI become invaluable. It's a bit like having a gardening guru in your pocket, ready to offer advice tailored just for you.
Why Consider AI for Your Garden?
In the tranquil realm of gardening, where patience and nature's rhythms have always been paramount, the introduction of Artificial Intelligence (AI) might seem a tad unconventional.
Yet, as our world becomes increasingly digitised, even the most traditional practices are getting a tech-infused makeover. So, why should our gardens be left behind?
Let's explore the compelling reasons to integrate gardening with AI into our green sanctuaries.
Efficiency and Precision: Remember when unexpected frost killed your seedlings? Or when you planted too early or too late? AI can help prevent such mishaps. By analysing vast amounts of data, it can predict weather changes, ensuring you plant at the perfect time.
Personalised Recommendations: Every garden is unique. Whether working with a sprawling backyard or a compact city allotment, AI tools can provide advice tailored to your specific needs. From soil health to sunlight exposure, it's all taken into account.
Cost Savings: While gardening is often a learning experience, mistakes can be costly. Seeds, tools, and time—they all add up. With AI's accurate predictions and planning, you can reduce waste and maximise your resources.
How Does Gardening with AI Work? A Deep Dive
Navigating the intricate dance of gardening requires a blend of intuition, experience, and knowledge, but what if we could add a sprinkle of advanced technology to this mix?
The concept might sound futuristic, but integrating Artificial Intelligence (AI) into gardening is very much a reality today. Before we embrace this digital assistant, let's delve deeper into the mechanics of how gardening with AI intertwines with our beloved green spaces.
Data Collection: At its core, AI is a data-driven entity. You're setting the stage by feeding it information about your garden—think soil type, sunlight exposure, and preferred plants. The more accurate the data, the better the recommendations.
Analysis: This is where the magic happens. AI tools use complex algorithms and machine learning to process the data, comparing it against vast databases of gardening knowledge.
Recommendations: Armed with insights, the AI tool then provides a detailed plan. It's like having a personalised gardening manual guide you every step of the way.
Top Free AI Tools for Garden Planning
In an era where technology seamlessly merges with our daily routines, the realm of gardening is no exception. With a plethora of digital tools at our fingertips, identifying the best can be a daunting task.
Fear not, green-thumbed friends! Here's a curated list of the top AI tools that won't cost you a penny but promise to elevate your garden planning experience.
ChatGPT: ChatGPT, a cutting-edge AI tool, can be a gardener's digital confidant. Users can gain instant insights by posing questions about plant care, soil health, or seasonal tips. It's like having a gardening expert in your pocket, ready to offer advice whenever you're in a botanical bind.
WeatherBot: Mother Nature can be unpredictable, but WeatherBot gives you a heads-up on future weather patterns. This AI tool analyses past data to provide forecasts, helping you plan your gardening activities. This beta app is only available in the US right now, but OpenWeather is still an excellent choice for UK readers!
From Seed to Spoon (app): The From Seed To Spoon app is only available in the US, but the GrowBot feature is an excellent chatbot for gardeners!
Planning Your Allotment Beds with ChatGPT
Even our gardens are getting a touch of tech magic in the digital age. One tool that's been a game-changer for me is ChatGPT. This AI-powered chatbot isn't just for trivia or general queries; it can also be a gardener's best friend!
I recently embarked on a project to plan out my allotment beds. The task can be daunting due to the endless list of factors I needed to consider, from crop rotation to companion planting, shade to plant size. The list goes on!
Enter ChatGPT for your gardening with AI needs!
By posing specific questions about plant spacing, optimal sunlight conditions, and even pest control, I was able to gather valuable insights in real time. The best part? It felt like chatting with a seasoned gardener, always ready with a tip or suggestion.
I've documented my experience in a YouTube video for those curious about this process. It's a step-by-step guide to harnessing the power of ChatGPT for garden planning. Whether you're a seasoned gardener or just starting, this tool can offer a fresh perspective and some handy advice.
Want the prompt? You can get it by signing up here!
The Ethical and Environmental Side of AI in Gardening
While the benefits of gardening with AI are numerous, it's crucial to approach it with a discerning eye. Not all AI tools are created equal. Prioritise platforms that value data privacy and don't share your information without consent.
On the environmental front, remember that digital tools have a carbon footprint. Balance your use of AI with traditional methods to ensure you're gardening in an eco-friendly way.
As with any technology, the key is responsible usage. Here are some tips to ensure you're using AI in a way that's both effective and ethical:
Research Your Tools: Research any AI tool you're considering before diving in. Look for reviews, understand its data sources, and ensure it aligns with your values.
Balance with Intuition: Use AI recommendations as a guide, but trust your instincts. Trust your gut if something feels off or doesn't align with what you know about your garden.
Stay Updated: The world of gardening with AI is ever-evolving. Regularly update your tools and stay informed about new features or advancements.
Challenges and Limitations of AI in Gardening
AI, while powerful, isn't infallible. It's essential to remember that it's a tool, not a replacement for human intuition and experience. Sometimes, your gut feeling as a gardener might contradict AI suggestions, and that's okay. Use AI as a guide, but trust your instincts too.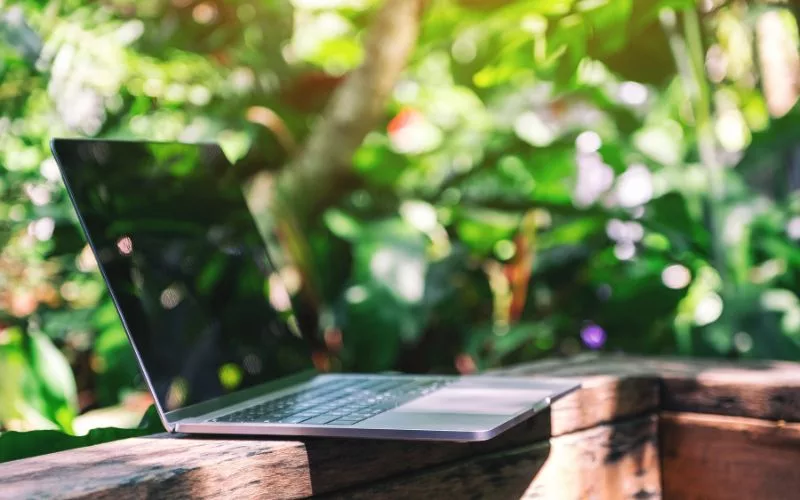 As technology advances, we can expect even more integration of gardening with AI. Imagine AI-powered drones that can monitor the health of crops or smart greenhouses that adjust conditions in real time for optimal growth. The possibilities are endless.
However, with these advancements, it's essential to remember our roots (pun intended). Gardening is as much about the journey as it is about the destination. While gardening with AI can enhance our experience, the joy, challenges, and learnings we gain from hands-on gardening are irreplaceable.
Conclusion
Gardening with AI is an exciting frontier, blending the age-old love for nature with the cutting-edge advancements of technology. Sitting in my garden, sipping a cuppa, and watching Dilly play, I'm filled with anticipation for the future. A future where technology and nature coexist harmoniously, helping us lead a life that's both modern and deeply connected to the earth.
Embracing AI in our gardens doesn't mean letting go of tradition. Instead, it's about enhancing our experience, making informed decisions, and paving the way for a greener, more sustainable future.
Here's to the AI-powered, human-heart-nourished gardens of the future.
Back To The Good Life is a participant in the Amazon Services LLC Associates Program, an affiliate advertising program designed to provide a means for sites to earn advertising fees by advertising and linking to Amazon.com. We also participate in other affiliate programs which compensate us for referring traffic.